We enjoy being in the lap of nature, take pictures and edit them for the perfect frame. Have you ever by chance upon editing one of your photos where you have to edit out the litters scattered around?
Weekends are meant for outings with family and friends, many a time relaxing in the beaches, mountains or even parks and often having our meals and refreshments there. But while we are all free to enjoy the beauty of nature's gift, a lot of us seemed to be callously leaving behind our garbage.
Not that we are not aware of our actions. In fact, while we know what's right from wrong, we tend to ignore our humanitarian instinct to leave nothing but footprints. That despite having enjoyed nature for free, we also give back what shouldn't be left behind — things that destroy the natural beauty of the world.
Wadi Shab is one of the most popular tourist places in Oman and most photographed for its beautiful picturesque presence. Tourists take a small boat ride to cross the small wadi and then walk through the small farms of the locals. After crossing the farms, the trail starts with the path crossing mountains before finally reaching the main wadi. The wadi itself is huge peppered with small pools where one can swim in between. At the very far end, one can swim the length of the last pool before reaching the opening of the cave that opens into this beautiful waterfall. This wadi is very easy to access and can be crossed with family and friends (of course life jackets are a must).
On the second week of June, I had the opportunity to do a very special hike in Wadi Shab organised by @Tiwi.kayak. Collaborating with move_green owned by Fahad Murshid Bilal al Abri, it was special because its aim was along the environmental clean-up initiative started by Fahad in 2019. Joined by a small team of like-minded followers, the goal for the day is to collect trash just thrown wantonly all over this spot.
Muhannad Juma Said al Salti the founder of Tiwi.kayak is a young Omani adventure enthusiast who during one of his hikes at Wadi Shab noticed that the place is flooded with plastics and all unnecessary dirt and garbage.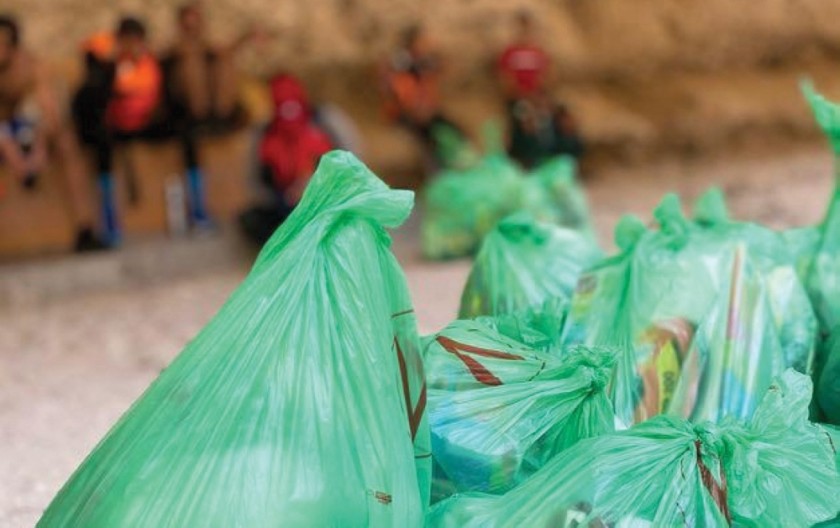 After hearing of the plan from Instagram, a few friends and I decided to volunteer, drove all the way to Wadi Shab at six in the morning and joined the group. The twenty-member team had our morning briefing and still adhering to Supreme Committee protocols, other than our cleaning gears, we also had our masks on.
Tiwi.kayak was generous enough to provide us with all the supplies which were required for the clean-up which included waste bags, gloves and life jackets, etc. Once we started the trail, it was surprising to see that even during summer when people are mostly indoors, the amount of garbage piled up in every corner imaginable. We were all determined to clean up the place and by the end of the day, we ended up collecting more than 40-45 bags of garbage.
It was one of the well-organised clean-up drives I've attended. While the temperature was over 45 degrees, we didn't mind. Constantly reminded to look after ourselves, hydrate and stay protected, a lot of us, gave our best to complete the goal of the day.
We all sang the jingle — "Matloob lil Adala" which is the signature song of move_green team ever since it started.
It has become a habit of mind to go into nature almost every weekend to appreciate it. But this time around, it became more meaningful being able to give back. The clean-up hike ended with an amazing lunch organised by Muhannad.
Wendell Berry has said once that the "Earth is what we all have in common." If there's one takeaway I'd love to share during this particular adventure, it's that we all have a responsibility to keep nature clean. I also think we should all begin the habit of bringing trash bags with us whenever we venture out. Whatever small effort we give back will back a tremendous effect on the overall effort of saving this Earth for the future generation.