MUSCAT: The Oman Convention and Exhibition Centre (OCEC) will be transformed into a hive of activity this week as it plays host to the World Veteran Table Tennis Championships 2023. More than 1,600 players aged 40 to over 90 years of age will compete for 44 world titles during the coming week.
The men's competition boasts many of the world's top ten ranked players including the former world number one Raymond Lui of Hong Kong, number two Petr Wasik from Czechia, number four Youssef Shalhoub from Lebanon and Mazen Shaouabar representing Palestine, a former world number five.
The women's event is equally competitive with former world number one Pia Toelhoj of Denmark and Ursula Luh-Fleischer, part of a very strong contingent from Germany, joining the very best veteran players from China, the United States of America, France, India and Japan.
Oman's nine-strong team consists of Sajad Baqir, Abdul Ghany Nasser Hassan, Soman Ukkath Variath, Mansoor al Wahaibi, Ismail al Sulaimani, Sultan al Riyami, Salim al Battashi, Saleh al Matrfi and Anwar Abbas.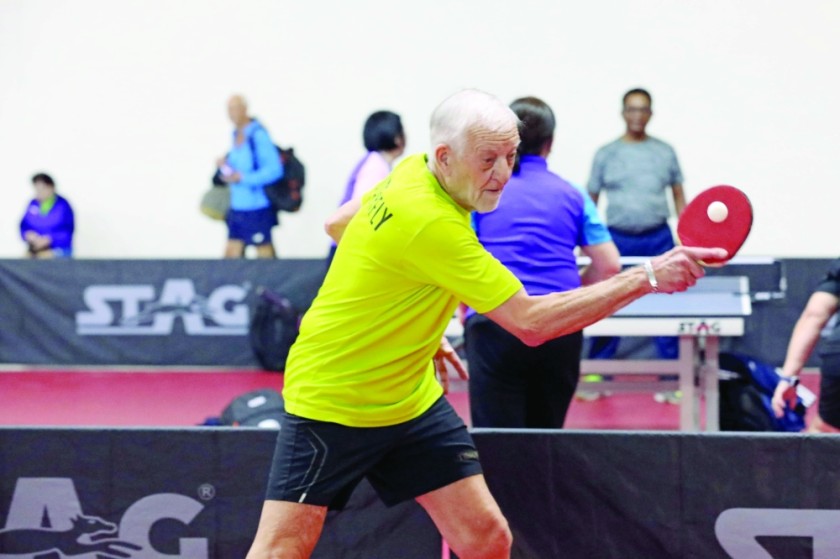 Participants are preparing for the championships
Mohamed Eldawlaty, Competitions Manager of World Veteran Championships – Muscat 2023, affirmed that
it is great to return back after five years absence of the World Veterans Table Tennis Championships. "We
are in full readiness to kick off fantastic event for players and fans for one full week. The event will take place
in a spectacular venue at Oman Convention and Exhibition Centre which will accommodate more than 100
tables with great facilities. I believe the players will have a different experience in this edition of the championships," he added.
"Due to some challenges in logistics and shipment, I would like to say special thanks to all the volunteers,
workers and the organising committee who managed to install the flooring for all the 100 tables in less than
one day which made possible made the event in one time. The team worked very hard during the past few
days ago to complete all the technical and logistics preparations that will ensure to make table tennis
accessible to veterans of all ages categories and help them fall in love with it."
"The players began their warm-up sessions on Saturday and Sunday ahead of the competitions start on Monday. Wishing good luck to all the participants from different part of the world. Besides the competitions among the players, table tennis will always contributing for all ages to be more active and healthier," he said.
The first round of matches begins today with the singles competition group stage. The doubles competition gets under way tomorrow.
Participants will be able to explore Muscat and further afield on January 18 before returning to action on January 19 for the first day of the knockout round. The semifinals and finals are scheduled for January 21.
First held in Goteborg, Sweden, in 1982, with just 450 participants from 21 countries, the World Veteran
Table Tennis Championships have grown to become a major fixture in the global calendar. Now in its 40th
year, this is the first time the championships have been held in this region, allowing Oman the opportunity to
showcase its unique culture and world-famous hospitality to a new audience.
The World Veteran Table Tennis Championships 2023 is organised by the Ministry of Culture, Sports and Youth, the Oman Table Tennis Association, and the International Table Tennis Federation, with support from Oman Fiber Optic, STAG Sports, Omantel and Belltel.
Event Schedule
January 15: Opening ceremony
January 16: Singles competitions, group stage
January 17: Singles and doubles, group stage
January 18: Day off/touristic offer
January 19: Singles and doubles, knockout round
January 20: Singles and doubles, knockout round
January 21: Singles and doubles, semifinals and finals