Muscat: The aerial picture from Oman Met Office shows the activity of cumulus clouds on the Central Hajar Mountains, scattered rain and accompanied by active downward winds in addition to experiencing hail later.
Continuity of chances of convective clouds forming and thunderstorms is also expected in the neighboring areas until Saturday.
​​​​​​​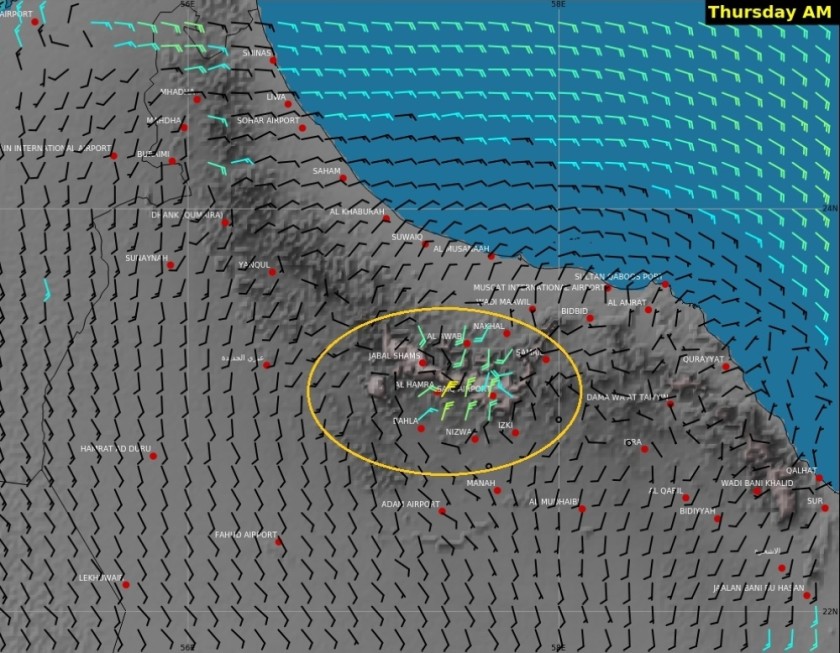 A weather advisory has been issued on thunderstorm for Ibra, Bahla, Biddiya, Mudhaibi, Rustaq, Ibri, Saiq, Hamra ad Daru, Al Hamra, Izki, Bidbid, Sunayna, Samayil, Jabal Shams, Buraimi and Yanqul.
There is also a sandstorm alert for Fahud, Sultan Qaboos Port, Haima, Marmul, Al Mazyunah, Thumrait and Qarn Alam.
Expectations of the formation of low clouds and fog on the coasts of the Sea of Oman and the coasts of the Arabian Sea at the end of the night and early morning, the Met Office had said may lead to isolated rain during Thursday and Friday on the coasts of the Sea of Oman and the continuation of drizzle and sporadic rain at times on the coasts and mountains of Dhofar.
The spread of low clouds and fog have also been experienced on parts of the coasts of the Sea of Oman and on the coasts of the governorates of South Al Sharqiyah and Al Wusta.
Activity of autumn clouds (low clouds and fog) on the coasts and mountains of Dhofar is in the forecast as well for the next two days. Autumn clouds activity on the mountains and coasts of Dhofar is expected to bring rain fall, the Met Office noted.
Also expected is the flow of clouds of different heights over the desert areas of Oman.
On the other hand, there are chances of dust and dust rising over the desert and open areas of Al Wusta Governorate due to the active southeast winds that may lead to a decrease in the level of horizontal visibility, so motorists have been kindly requested to take caution.
On Tuesday, thunderstorms had continued in parts of North Al Sharqiyah Governorate.
The flow of clouds are also forecast on the coasts of Muscat Governorate, high clouds flow over Al Wusta and Dhofar governorates.