Muscat: Oman national teams concluded their participation in the third GCC Games in Kuwait with 33 medals on Tuesday.
Oman won 12 gold, five silver and 16 bronze medals in the May 16 to 31 Games to end sixth and last in the medals tally.
Hosts Kuwait clinched the overall championship with 35 gold and total 94 medals. Bahrain were second with 20 gold and total 63 medals, while the UAE claimed third with 18 gold and total 50 medals. Saudi Arabia were fourth with 16 gold and total 66 medals and Qatar finished fifth with 15 gold and total 50 medals.
However, Oman send the least number of athletes for the Games. Oman competed in only 9 out of 16 games with a contingent of 130 men and women athletes.
Hosts Kuwait participated with 394 athletes and Bahrain participated with 360 athletes and they participated in all 16 games individually and team wise.
The highlights of Oman medals were the seven gold and two bronze won by the shooting team. The gold medals were achieved by Salim bin Ali al Naabi in the 10m air rifle category, Moaz bin Darwish al Balushi (25m rapid pistol) and Issam bin Badr al Balushi in the 50m rifle competition. Oman won team gold in the 10m air pistol competition. The team consisted Saif al Shukaili, Suleiman al Rahbi and Ismail al Abri. Oman clinched gold in the 50m rifle competition by the team consisting of Issam al Balushi, Dilham al Harrasi and Ali al Saeedi. The gold-winning Oman team in 10m air rifle included Issam al Balushi, Mohammed al Hajri and Salim al Naabi. Also, Oman bagged the gold in 25m rapid pistol with shooters Moaz al Balushi, Sultan al Hajri and Jamal al Hatali. The bronze medals came through Suleiman bin Abdullah al Rahbi in 10m air pistol and Issam bin Badr al Balushi in the 10m air rifle competition.
Oman women's padel team claimed the inaugural padel gold in the GCC Games.

Oman shooting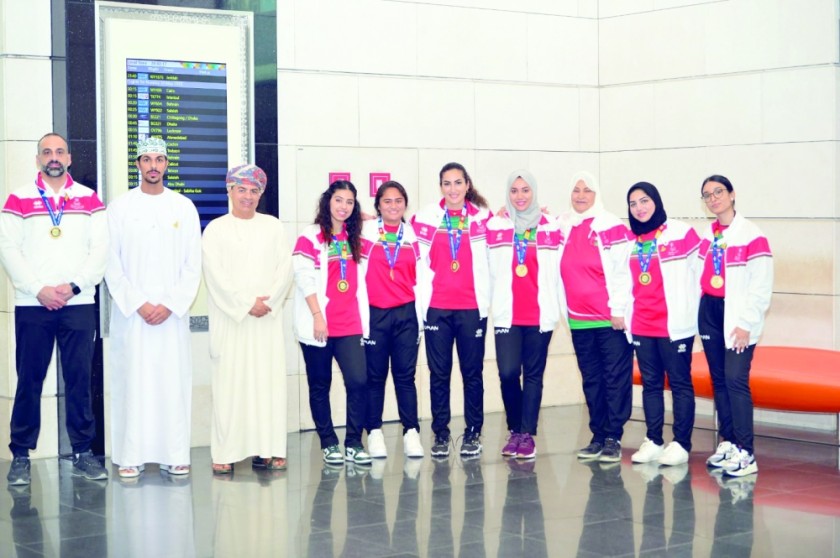 Oman padel women's team1
athletics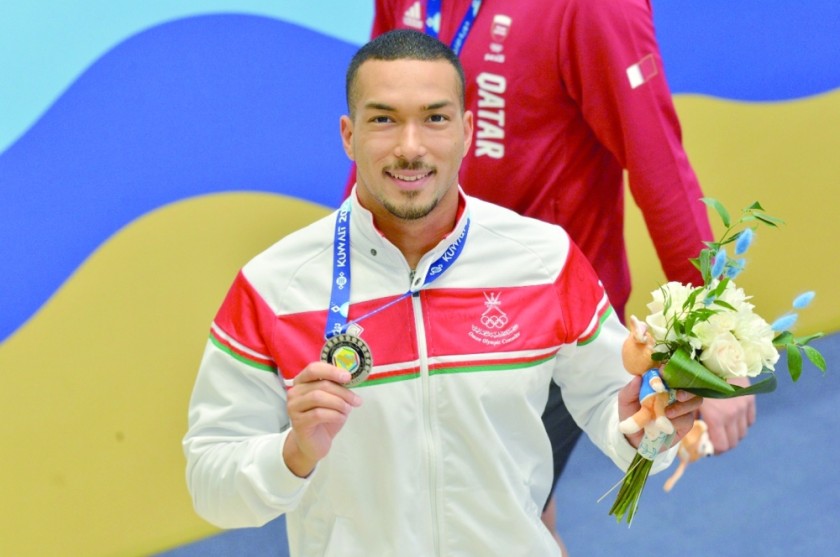 Issa al Balushi
In the athletics competitions, Oman men's and women's team achieved 11 medals, including 4 gold, 3 silver and 4 bronze. The women's team achieved three gold medals, through Mazoon al Alawi in the 100m race, Heba al Asmi in the javelin throwing competition, and Hana al Tawqi in the hammer throw competition.
Mazoon al Alawi won the silver in the 100m hurdles, and Heba al Asmi won the bronze medal in the high jump competition.
Salim al Yaroubi won the men's long jump gold. Salim al Rawahi won a silver in the triple jump. Other men's athletics medals were three bronze medals achieved by Salim al Yaroubi in triple jump, Barakat al Harthy in 100m race and Khalfan al Jabri in 110m hurdles.
In swimming, Oman won two silver and three bronze medals. The silver medals were won by Issa al Adawi in the 800m freestyle and 400m freestyle. The bronze medals came through Issa al Adawi (200m freestyle), Oman team in 4x100m freestyle relay and in the 4×200 metres freestyle relay.
Oman national electronic team won two bronze medals. Sarah al Amri won the first bronze in 'Fifa 22' game and the team consisting of Saleh al Ghassani and Fahd al Hasani won the second bronze medal.
Oman volleyball team achieved the bronze medal for the third time in GCC Games.
The karate team concluded their participation by winning three bronze medals. Mohammed al Hajri (55 kg), Saeed al Shabibi (60 kg) and Mohammed al Kindi (75 kg) were the medal winners for Oman.
MEDALS TALLY
Rank, Country, Gold, Silver, Bronze, Total
1. Kuwait 35 28 31 94
2. Bahrain 20 22 21 63
3. UAE 18 16 16 50
4. Saudi Arabia 16 22 28 66
5. Qatar 15 20 15 50
6. Oman 12 5 16 33