ADAM: Human riders round was the attraction on the fourth day of annual Al Bashayer Camel Race Festival as competition and excitement continued at Adam race tracks.
In the morning session, two rounds for human riders were held symbolising the old and traditional races in Oman. Both rounds saw 12 human riders along with their camels.
The first round was for 2 km with the winner getting RO 700 for the first place. 'Daw' owned by Ahmed Khamis finished the race in 3 min 16 seconds to take the honours.
In the second round, 'Eftetah' for Amer Al Rari covered the 2km first in 3:13.
Then the competition continued for the normal race for 8 km 'robort riders' in 3 rounds for old category 'Thanaya' (five years old) with 116 participants.
In first round, 'Mubesherah' snatched the car prize for Hamed al Wahibi in 12:56 with 36 participants. In the second round, 'Menawer' for Salim al Madhoshi won in 13 minutes and 11 seconds, with (dagger) and cash prizes of RO 800 out of 51 camels.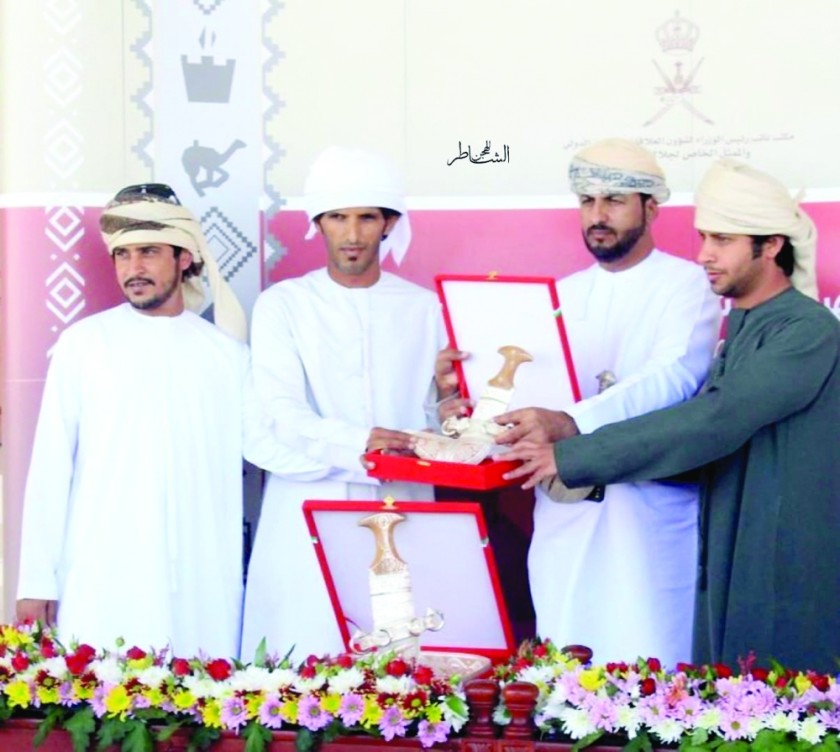 Al Bashayer 4th day
Al Bashayer 4th day1
In the third round for cash prize was won by 'Meshelah' from UAE owned by Muhammad al Shamsi covering the 8 km 13:6 with 29 participants.
Another four rounds for 'Alhool' category (8 km) was held later.
In the first round, 'Musyha' for Ali al Ketebi from UAE claimed the car prize in 13:1 over 32 participants. The dagger was presented for the second winner out of 40 camels, which was win by 'Atyari' for Bader al Wahibi in 13:34.
The third round (cash prize) was won by 'Wesam' for Saed al Amri with 13:34. In the fourth and last round (cash prize) 'Awayed' (Hegin Al Bashayer), owned by HH Sayyid Asaad bin Tarik al Said and trained by coach Gasem al Muhabi, claimed the title after covering the race in 13 minutes and 23 seconds out of 17 participants.