AN exquisite photo exhibition showcasing enterprising women from Oman has made its debut in Lyon, France, in collaboration with partner agency Asia Voyages.
This remarkable exhibition titled 'Women of Oman' marks the second of its kind, following the inaugural event held in May 2022 to commemorate the 20th anniversary of the establishment of the Oman Tourism Office in France. The initial exhibition took place at the prestigious Automobile Club in Paris.
Duaa Abdullah Sakhar Al Amri
Rania Khodr, Head of Oman Tourism France at the Ministry of Heritage and Tourism, Sultanate of Oman, who spearheaded this initiative single-handedly says that her vision extended beyond Lyon and Paris, as she aspires to expand the exhibition to other cities before concluding it in Oman.
After the successful 2022 event, Rania wanted to organise an exclusive event for trailblazing Omani women who were achievers in their own fields.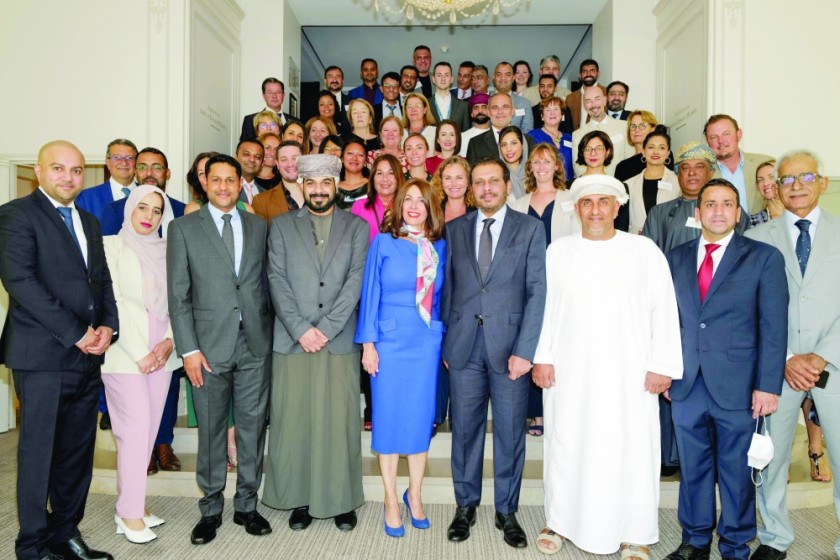 GROUP PICTURE
Explains Rania that "the purpose of the photo exhibition was to capture French travelers' attention, inspiring them to experience Oman through these remarkable women. Each photograph reflects their artistic perspective and their personalities, providing a captivating glimpse into Oman's diverse landscapes and vibrant culture."
She roped in Brussels-based freelance photographer Pascal Mannaerts who travelled to Oman and specifically instructed to photograph 'inspiring Omani women and not about Oman'.
This was in collaboration with Asia Voyages and the Ministry of Heritage and Tourism.
Known for his ability to place the human element at the heart of his work, Pascal embarked on a journey to Oman and met these extraordinary women. The resulting portraits capture their outer beauty and inner strength, sparking dialogues, evoking emotions, and provoking thoughtful contemplation.
For more than 15 years, Pascal has been traveling the roads of the world. From India to Ethiopia, Iran, Peru, and Mongolia, his travels have taken him to every continent and to more than 50 countries.
Alia Al Farsi
The exhibition features a lineup of leading Omani women, including Alia Al Farsi, Areej Al Balushi, Duaa Al Amri, Lamya Harub, Maha S Al Lamki, May Salim Khalaf Al Kaabi, Mona Al Baiti, Muneera Al Habsi, Nadhirah Al Harthy, Saada, and her family.
Then the pandemic stuck which dashed all her hopes of an exhibition in France. She then waited until May 2022 and hosted the first photographic expo at the Automobile Club de France, Paris, to a roaring success.
The ongoing exhibition hosted by Asia Voyages with support from Oman Air began on June 15, runs until September 30, in ASIA Travel Agency, and moves to Paris by October end.
Since the establishment of the Oman Tourism Office in France in 2002, Rania has been dedicated to showcasing the beauty of Oman through unique and unconventional activities. By organising events, campaigns, and workshops "off the beaten path," she highlights the hidden gems of the Sultanate.
Rania also plans to continue the exhibition and take further pictures of other successful women who have not been covered now in the present edition.
Thierry Combe, B-to-C Sales Manager for Asia Voyages, who is in charge of 5 'exhibitions place' in Lyon, Paris, Toulouse, Marseille, and Nice, says that apart from the Lyon exhibition there is also another expo about Oman in Lyon at the museum MBA.
Nadhirah Al Harthy
Among the participants was the first Omani woman to climb Mount Everest, a doctorate holder in the political economy of energy security, an unconventional artist, a dedicated tourist guide, the founder of the first female-run riding school, a Bedouin, a marketing tourism officer, a member of the state council, a diplomat, a model, and a fashion lifestyle blogger.
Through meaningful conversations, Pascal captured their stories of resilience, ambition, and unwavering commitment to preserving their Omani identity in their daily lives.
Rania fondly recalls the words of the late Sultan Qaboos, who emphasised the significance of both men and women in the country's journey toward progress. His modern and realistic vision continues to inspire and guide them. Today, Omani women actively contribute to the identity of the Sultanate across various domains, including mountaineering, arts, medicine, diplomacy, engineering, equestrianism, and tourism. Their unwavering love for their country shines through, and this photo exhibition provides a platform to display their uniqueness.
Rania extends her gratitude to all the partners and friends involved in making this exhibition a reality, particularly the amazing women who graciously agreed to be photographed, sharing their love for Oman with the world.
Pictures by Pascal Mannaerts
@lijucherianoman