Muscat: His Majesty Sultan Haitham bin Tarik returned home on Monday, concluding an official two-day visit to the Arab Republic of Egypt in response to an invitation from President Abdul Fattah el Sisi.
His Majesty the Sultan was received at the Royal Airport by HH Sayyid Fahd bin Mahmoud al Said, Deputy Prime Minister for the Council of Ministers, HH Sayyid Theyazin bin Haitham al Said, Minister of Culture, Sports and Youth, HH Sayyid Taimour bin Asaad al Said, Chairman of the Board of Governors of the Central Bank of Oman (CBO), Shaikh Abdulmalik bin Abdullah al Khalili, Chairman of the State Council, Khalid bin Hilal al Maawali, Chairman of the Shura Council, Sayyid Hamoud bin Faisal al Busaidi, Minister of Interior, Nasr bin Hamoud al Kindi, Secretary General of the Royal Court Affairs, Dr Madiha bint Ahmed al Shaibaniya, Minister of Education, Lt Gen Hassan bin Mohsin al Shuraiqi, Inspector General of Police and Customs, Lt Gen Said bin Ali al Hilali, Head of the Internal Security Service, Eng Said bin Hamoud al Maawali, Minister of Transport, Communications and Information Technology, Dr Mohammed bin Said al Maamari, Minister of Endowments and Religious Affairs, Vice Admiral Abdullah bin Khamis al Raisi, Chief of Staff of the Sultan's Armed Forces, Maj Gen Mattar bin Salim al Balushi, Commander of the Royal Army of Oman, Air Vice Marshal Khamis bin Hammad al Ghafri, Commander of the Royal Air Force of Oman, Rear Admiral Saif bin Nasser al Rahbi, Commander of the Royal Navy of Oman and Maj Gen Musallam bin Mohammed bin Taman Jaaboub, Commander of the Sultan's Special Force.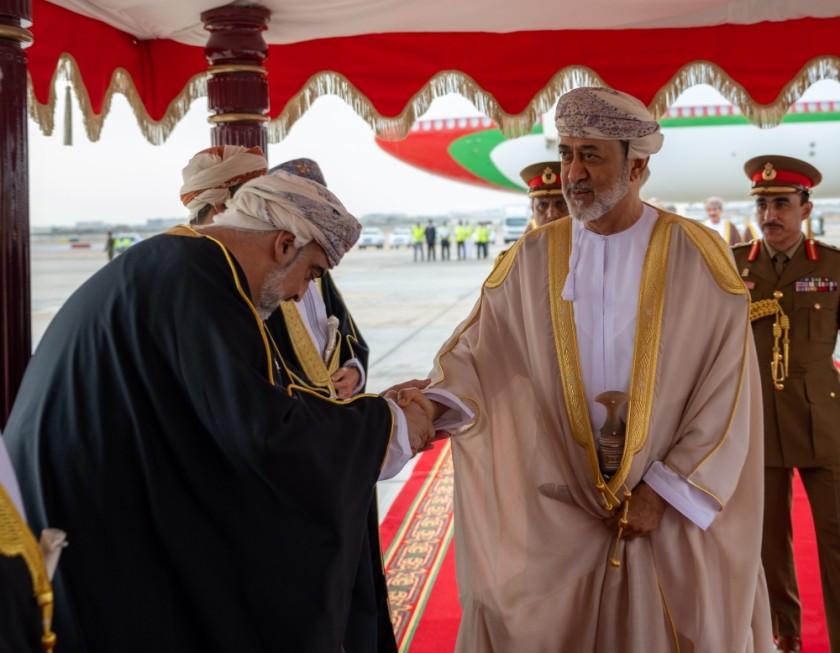 His Majesty the Sultan was accompanied during the visit by a high-ranking official delegation that comprised HH Sayyid Shihab bin Tarik al Said, Deputy Prime Minister for Defence Affairs, Sayyid Khalid bin Hilal al Busaidi, Minister of the Diwan of Royal Court, Gen Sultan bin Mohammed al Nuamani, Minister of the Royal Office, Sayyid Badr bin Hamad al Busaidi, Foreign Minister, Sultan bin Salim al Habsi, Minister of Finance, Dr Hamad bin Said al Aufi, Head of the Private Office, Abdul Salam bin Mohammed al Murshidi, Chairman of Oman Investment Authority (OIA), Qais bin Mohammed al Yousef, Minister of Commerce, Industry and Investment Promotion and Abdullah bin Nasser al Rahbi, Ambassador of the Sultanate of Oman to the Arab Republic of Egypt and its Permanent Representative to the Arab League.