Imam Bayildi, Umm Ali, Muhammara, Tabbouleh Salad and Lebanese Manakish are some of the dishes that are typically served during iftars.
As a food designer from India, chef Ananya Banerjee has a deep penchant for food and her fascination for the Arab world goes back to her childhood.
She has also travelled to many cities of the Arab world and the Middle East as a chef experimenting with world cuisine.
Ananya is known for her remarkable dining experiences, especially her Ethiopian platter which has been applauded not only by the food industry but also Condé Nast Traveller and The Huffington Post. She regularly hosts dining experiences in Peruvian, German, Arabic and Indian regional cuisines.
Ananya also regularly conducts exclusive private pop-ups at reputed hotels and clubs all over the world.
Author of 'Planet Gastronomy – 100 Most Popular Global Dishes,' and 'Bangla Gastronomy – the journey of Bengali food,' the two books on global cuisine are regarded as perhaps the most authentic international cookbook ever published in India.
She has her own line of gourmet products which ranges from authentic Bengali spice blends and relishes, to world cuisine as well as her interpretation of a fusion between the two.
A food curator, Ananya cooks up some traditional dishes for Ramadhan for the Observer readers. Bon Appetit.
The recipes are below:

Shish Tawouk
(A popular Middle Eastern chicken dish has its origin in Türkiye)
Ingredients
250 gm boneless cubes of Chicken breasts
Ingredients for the marinade
¼ cup of Yogurt
1 Tbsp Lemon juice
2 Garlic cloves, grated
1 tsp Paprika powder
½ tsp Cinnamon powder
½ tsp Oregano flakes
½ Grated ginger
Salt
Method
In a mixing bowl add all the ingredients along with chicken cubes and mix well. Keep in a fridge for 4 hours or overnight to marinate. Skewer the chicken on a grill or pan fry them on a gas stove. Additionally, you can put onions in the skewer.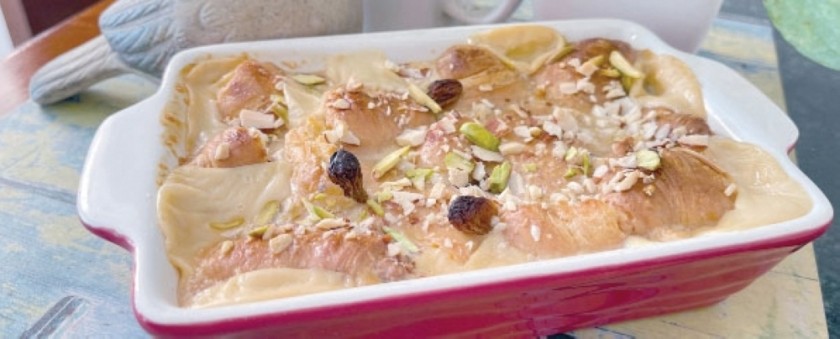 Umm Ali
(A traditional Egyptian dessert similar to bread pudding)
Ingredients
One Croissant
½ cup Milk
Sugar
6/7 Slivered almonds
8/10 Chopped pistachios
6/8 Chopped cashews
4 Chopped pine nuts
4/5 Raisins
Grated coconut
Vanilla essence
Method
In a baking dish break the croissants and add half of the nuts, raisins, coconut and mix lightly and spread evenly.
In a saucepan take the milk, sugar and the vanilla essence and mix well. Do not boil the mixture. Just heat until hot.
Pour the mixture on the pastry spread and bake for 10 minutes or till the top is golden brown in a preheated oven (200 degrees centigrade). Take it out and let it rest for 10 minutes. Add the balance nuts on top and serve.
Imam Bayildi
(A recipe where whole egg plants are stuffed with minced meat, tomatoes and garlic, simmered with olive oil and baked)
Ingredients
One Eggplant
Beef mince or chicken or lamb mince
Salt and pepper to taste
2 Tbs Olive oil
2 Garlic cloves, chopped
One onion, sliced
One Tomato, chopped
Parsley, chopped
1 Tbs Tomato Puree
Sugar to taste
Water
Method
Cut the eggplant into halves, keeping the stem intact. Scoop out the flesh with a spoon to create a hollow space. Sprinkle salt and let the juice drain from the eggplant. Set aside.
Heat oil in a pan and add garlic, onions, tomatoes, parsley and minced meat and the eggplant flesh. Cook over high heat for 4 to 5 minutes.
Add tomato puree, salt, sugar, pepper and water. Cook till the mixture is thick and semi dry.
Brush the scooped-out eggplants with oil and stuff with the minced meat mix. Bake in an oven for 20/25 minutes. Garnish with chopped parsley.

The Quick Baklava
(A popular dessert in Turkish, Iranian and Aran cuisine, baklava is a layered pastry dessert)
Ingredients
Phyllo
1 pound box of phyllo 9x14 sheets to room temperature
¾ cup clarified butter or ghee
The Sugared Nuts:
3 cups raw or roasted walnuts coarsely chopped in food processor
½ cup granulated sugar
Simple Syrup:
1 cup granulated sugar
¾ cup water
1 tablespoon lemon juice
1 tablespoon orange blossom water
Method:
To make the simple syrup, combine the water, sugar and lemon juice in a small saucepan over medium-high heat. Bring mixture to a boil, then reduce heat to simmer, stirring occasionally until the sugar is dissolved and the mixture is thickened but still clear colored, about 5-7 minutes. Remove from heat, add the orange blossom water, and set aside to cool.
In a large bowl, combine the walnuts and granulated sugar until well mixed.
Preheat the oven to 350°F. Brush the bottom of a 9x13 pan with clarified butter.
Open the two sleeves of phyllo sheet – each will have about 20 sheets. Unroll them and cut off an inch at the end to make them fit into the 9x13 pan.
Lay one stack of 20 phyllo sheets in the pan. Add about 5-10 more phyllo sheets on top of the first stack. Spread the nuts mixture over the phyllo in one even layer. Lay the remainder 10-15 phyllo sheets over the nuts.
Cut the baklava into diamonds by making 5 cuts lengthwise and 9 cuts crosswise on the diagonal, holding down the phyllo sheets with your other hand as you cut carefully.
Pour the melted clarified butter over the baklava evenly. Allow the butter to settle in, about 5 minutes.
Bake until golden brown all the way into the cut lines, about 50-60 minutes, rotating the baklava halfway through baking.
Remove the pan from the oven and immediately pour the cooled simple syrup evenly over the baklava. Allow to cool at room temperature for several hours before serving.
Muhammara
(A hot pepper dip from Syria is an integral part of Levantine and Turkish cuisines)
Ingredients
3 Tablespoon Olive oil
Two roasted red bell peppers
Bread crumbs
2 Garlic cloves, smashed
8/10 Walnuts
4 Tablespoon Pomegranate molasses
½ tsp Cumin powder
½ Chilli flakes
Method
Blend everything in a mixture grinder to form a paste.

Tabbouleh Salad
(A healthy Levantine salad)
Ingredients
Half cup Cracked wheat bulgur soaked in 1/2 cup boiling water
One teaspoon Sea salt
2 Garlic cloves
2 Tbsp Olive oil
1 tablespoon Lemon juice
A few Mint leaves
Black pepper powder
Chopped Parsley
Two chopped tomatoes
One chopped cucumber
Method
Take garlic cloves and olive oil and blend to form a dressing
Add the mint leaves, salt and pepper and blend again till the mint leaves are absorbed in the dressing
Take the soaked bulgur wheat in a bowl and mix well with the dressing
Now add the chopped parsley first then the cucumber and lastly the tomatoes and toss lightly.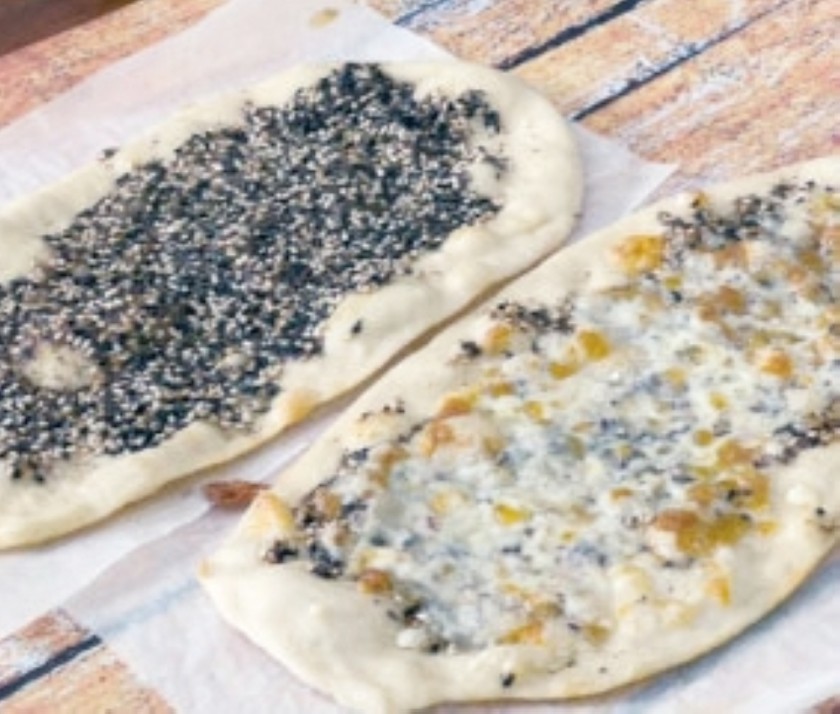 Lebanese Manakish
(Lebanese flatbread)
Ingredients
250 grammes flour
One tsp active dry yeast
Six tablespoon Olive Oil
3 tablespoon Zaatar (mix of sesame seeds, sumac, thyme)
½ tablespoon Salt
½ tablespoon Sugar
¼ cup warm water
Method
Mix sugar, active dry yeast with warm water. Allow the yeast to activate.
Take a mixing bowl and add the flour and salt and knead. Add the yeast when it's frothy. Mix all well along with olive oil.
Knead the dough well. When the dough is smooth make a large ball out of it and keep in an oiled bowl and cover with cling wrap. Let the dough rise.
Roll the kneaded dough like pita bread.
Mix the Zaatar with olive oil to form a paste. Spread the Zaatar on the bread and bake.