KAHRAMANMARAS/ANTAKYA: President Tayyip Erdogan on Wednesday admitted to problems with his government's initial response to a devastating earthquake in southern Turkey amid anger from those left destitute and frustrated over the slow arrival of rescue teams.
A newborn baby who was found still tied by her umbilical cord to her mother and pulled alive from the rubble of a home in northern Syria receives medical care at a clinic in Afrin. - AFP
Erdogan, who contests an election in May, said on a visit to the disaster zone that operations were now working normally and promised no one would be left homeless, as the combined death toll across Turkey and neighbouring Syria climbed above 11,000.
But across a swathe of southern Turkey, people sought temporary shelter and food in freezing winter weather, and waited in anguish by piles of rubble where family and friends may lie buried. Rescuers were still digging out some people alive. Others were found dead.
A Syrian man who was injured in a deadly earthquake sits with a child in a make-shift shelter in the camp of Deir Ballut in the Afrin region of Aleppo province. - AFP
There were similar scenes and complaints in neighbouring Syria, where the impact of Monday's huge quake extended to.
The death toll from both countries was expected to increase as hundreds of collapsed buildings in many cities have become tombs for people who had been asleep in the homes when the quake hit in the early morning.
In the Turkish city of Antakya, dozens of bodies, some covered in blankets and sheets and others in body bags, were lined up on the ground outside a hospital.
Families in southern Turkey and in Syria spent a second night in the freezing cold.
Many in the disaster zone had slept in their cars or in the streets under blankets, fearful of going back into buildings shaken by the 7.8 magnitude tremor - Turkey's deadliest since 1999 - and by a second powerful quake hours later.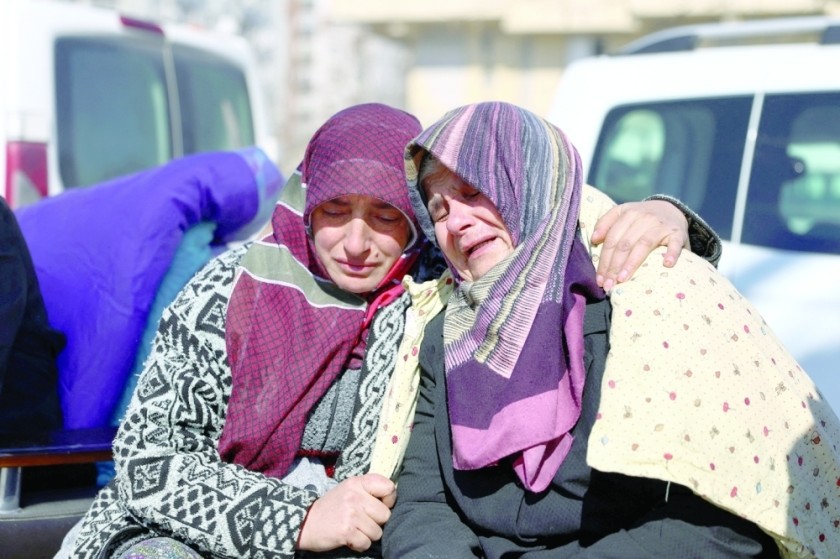 Woman react as they gather near the site of a collapsed building, in the aftermath of the deadly earthquake, in Kahramanmaras, Turkey, February 8, 2023.
"Where are the tents, where are food trucks?" said Melek, 64, in Antakya, saying she had not seen any rescue teams. "We survived the earthquake, but we will die here due to hunger or cold here."
The death toll rose to 8,574 in Turkey on Wednesday. In Syria - already devastated by 11 years of war - the confirmed toll climbed to more than 2,500 overnight, according to the government and a rescue service operating in the rebel-held northwest.
Turkish authorities released video of rescued survivors, including a young girl in pyjamas, and an older man covered in dust, an unlit cigarette clamped between his fingers as he was pulled from the debris.
In Syria's Aleppo, staff at the Al-Razi hospital attended to a man with bruised eyes who said more than a dozen relatives including his father and mother were killed when the building they were in collapsed.

Belgian rescuers board a plane after the deadly earthquake in Turkey
"We were 16 and 13 of us died. My brother, one-and-a-half-year-old niece and I got out. Thank God," he said.
"My father, my mother, my brother, his wife and their four children. The wife and two kids of my brother who got out with me also died."
Erdogan, who has declared a state of emergency in 10 provinces and sent in troops to help, arrived in Kahramanmaras to view the damage and see the rescue and relief effort.
Speaking to reporters, with the wail of ambulance sirens in the background, Erdogan said there had been problems with roads and airports but "we are better today".
"We will be better tomorrow and later. We still have some issues with fuel ... but we will overcome those too," he said.

Russian rescue workers at work at a collapsed building in the town of Jableh in the province of Latakia, northwest of Damscus. - AFP
However, the disaster poses a challenge to him in the May election that was already set to be the toughest fight of his two decades in power.
Any perception that the government is failing to address the disaster properly could hurt his prospects. On the other hand, analysts say, he could rally national support around the crisis response and strengthen his position.
The quake toppled thousands of buildings including hospitals, schools and apartment blocks, injured tens of thousands, and left countless people homeless.
Entire streets in Kahramanmaras, near the epicentre, were reduced to rubble, drone footage showed, with plumes of smoke rising from fires across the town. Hundreds of tents were set up as shelter in a sporting venue.
Turkish President Recep Tayyip Erdogan tours the site of destroyed buildings during his visit to the city of Kahramanmaras in southeast Turkey. - AFP
Reuters journalists saw around 50 bodies draped in blankets on the floor of a sports hall.
Kneeling on the floor, a woman wailed with grief and embraced a body wrapped in a blanket
Turkish authorities say some 13.5 million people were affected in an area spanning roughly 450 km from Adana in the west to Diyarbakir in the east. In Syria, it killed people as far south as Hama, 250 km from the epicentre. In Syria, the relief effort is complicated by a conflict that has partitioned the nation.
Residents in Syrian government-held territory have described the authorities' response as slow, with some areas receiving more help than others. State news agency Sana quoted Hussein Makhlouf, minister of local administration and environment, as saying the state had opened 180 shelters for displaced people.
In Jandaris in northern Syria, rescue workers and residents said dozens of buildings had collapsed.
Standing around the wreckage of what had been a 32-apartment building, relatives of people who had lived there said they had seen no one removed alive. A lack of heavy equipment to lift large concrete slabs was impeding rescue efforts. - AFP
10 DEADLIEST QUAKES OF THE 21ST CENTURY
PARIS: With the death toll rising by the hour, the massive earthquake that struck Turkey and Syria on February 5 is already among the ten deadliest of the 21st century.
2004: 230,000 dead, SOUTHEAST ASIA On December 26, a massive earthquake measuring 9.1 on the Richter scale strikes off the coast of Sumatra, triggering a tsunami that kills more than 230,000 throughout the region, including 170,000 in Indonesia alone. Huge waves of 700 kph reach heights of 30 metres.
2010: 200,000 dead, HAITI A magnitude 7 quake on January 12 devastates the capital Port-au-Prince and the surrounding region. The quake cuts the country off from the rest of the world for 24 hours, killing over 200,000 people, leaving 1.5 million homeless and shattering much of its frail infrastructure.
2008: 87,000 dead, SICHUAN More than 87,000, including 5,335 school pupils, are left dead or missing when a 7.9-magnitude quake strikes southwestern Sichuan province on May 12. Outrage erupts after it emerges 7,000 schools were badly damaged by the quake, triggering accusations of shoddy construction, corner-cutting and possible corruption, especially as many other buildings nearby held firm.
2005: 75,000 dead, Kashmir An October 8 earthquake kills more than 73,000 people, the vast majority of them in Pakistan's North-West Frontier Province and the Pakistani-administered zone of Kashmir state. Some 3.5 million people are displaced.
2003: 31,000 dead, BAM A 6.6-magnitude quake on December 26 in southeastern Iran destroys the ancient mud-brick city of Bam, killing at least 31,000 people. Nearly 80 per cent of Bam's infrastructure is damaged, and the desert citadel, once considered the world's largest adobe building, crumbles.
2001: 20,000 dead, INDIA A massive 7.7 earthquake on January 26 hits the western Indian state of Gujarat, killing more than 20,000 people. The quake levelled buildings across the state, with many fatalities in the town of Bhuj near the Pakistan border.
2011: 18,500 dead, JAPAN On March 11, Japan is struck by an enormous 9.0-magnitude earthquake, unleashing a towering tsunami that levels communities along the country's northeastern coast. Around 18,500 people are left dead or missing as the terrifying wall of water travelling at the speed of a jet plane swallows up everything in its path.
2023: 11,200 dead, TURKEY, SYRIA On February 5, a 7.8 magnitude quake strikes near the Turkish city of Gaziantep, home to around two million people. Followed by a slightly smaller 7.5 magnitude tremor and many aftershocks, the quakes devastate entire sections of major cities in southeastern Turkey and the north of war-ravaged Syria. The death toll reaches more than 11,200 three days after the disaster.
2015: 9,000 dead, NEPAL A 7.8-magnitude earthquake on April 25 strikes in central Nepal, triggering avalanches and landslides across the Himalayan nation, destroying schools and hospitals. The massive quake kills almost 9,000 people and renders millions homeless, while also reducing more than a hundred monuments to rubble, including centuries-old temples and royal palaces in the capital's Kathmandu valley.
2006: 6,000 dead, JAVA On May 26, a 6.3-magnitude quake rocks the southern coast of the Indonesian island of Java, near the city of Yogyakarta, killing around 6,000 people. More than 420,000 are left homeless and some 157,000 houses are destroyed. -- AFP
Why first 72 hours are crucial for quake rescues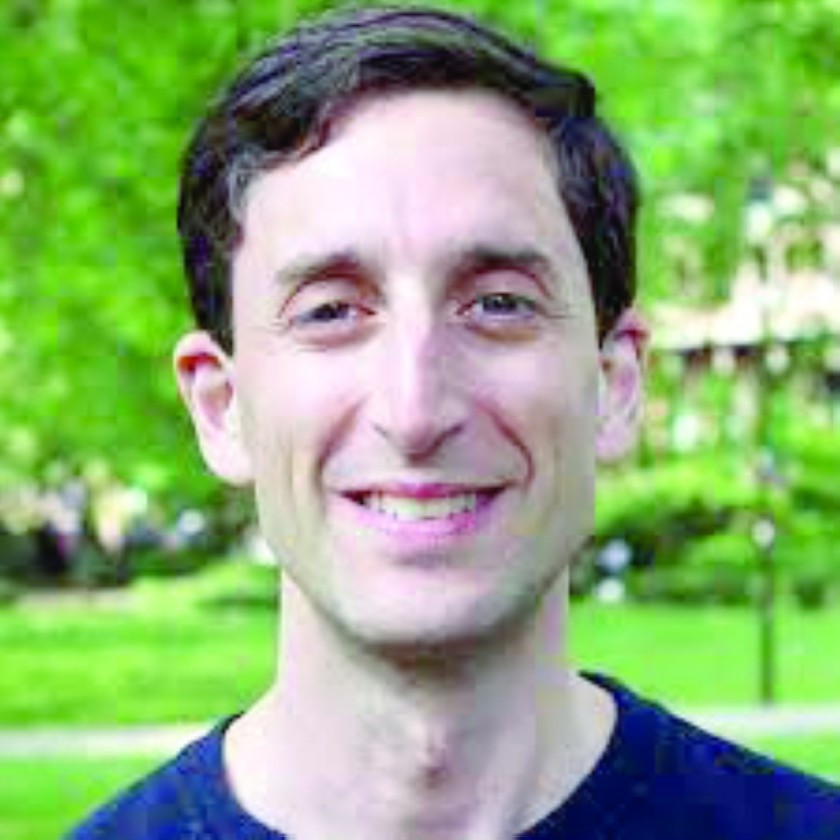 Ilan Kelman, professor of disasters and health, University College London
PARIS: Time was running out for survivors buried in the rubble of the earthquake in Turkey and Syria, as search efforts near the crucial 72-hour mark, a rescue response expert said on Wednesday. More than 90 per cent of earthquake survivors are rescued within the first three days, said Ilan Kelman, a professor of disasters and health at University College London. But that number can vary significantly depending on the weather, aftershocks and how quickly rescue teams and equipment can arrive at the scene -- all factors which are currently going against efforts in Turkey and Syria. Over 11,200 people have been killed and thousands more injured after the earthquake struck southeastern Turkey and neighbouring Syria at 04:17 am on Monday. With the 72-hour window closing early on Thursday morning, Kelman said why this timeframe is so important.
INJURIES, TEMPERATURE, WATER
"Generally, earthquakes do not kill people, collapsing infrastructure kills people," said Kelman, who has published research on quake rescue responses. The most pressing factor is getting medical attention to people crushed under collapsed buildings before "their bodies fail" or they bleed out, he said. Weather is also a key factor, and "it is completely against us" in Turkey and Syria, Kelman said. The quake-hit regions have suffered through freezing temperatures as well as rain and snow since Monday. "This very sadly means that hypothermia is possible, and people are probably unfortunately perishing due to the weather," Kelman said. Those who do manage to survive the cold and their injuries still need food and water. Without water, many people "will start dying at the three, four, five day mark," Kelman said. Aftershocks, which hit without warning in the days after an earthquake, can further collapse buildings, posing "a huge and frightening risk" to both survivors and those trying to rescue them, he added. The quake-hit regions have been shaken by relentless aftershocks, including a massive 7.5 magnitude tremor on Monday.
GETTING HELP TO THE SCENE
Kelman said that normally "the vast majority of survivors are brought out within 24 hours by local teams, often using no more than their hands or a shovel." Dozens of nations have pledged to send search and rescue teams as well as relief supplies to Turkey and Syria. But the quake occurred in "a remote area, in a conflict zone, which is very difficult to get into," Kelman said. It generally takes at least 24 hours for international rescue teams to arrive, get set up and start working. "At that point, a good number of the people who could have survived have already perished," Kelman said. For areas stricken by conflict near the Syrian border, access is trickier still. "And as far as I've seen, rescue teams have not even fully assessed many of the areas in the main conflict zones, or many of the temporary settlements for displaced people," Kelman said.
HOW TO FIND SURVIVORS?
Once on the scene, there are a range of ways that rescue teams can find earthquake survivors, including dogs which sniff through rubble. A particularly famous team of quake rescue dogs from Mexico is on its way to Turkey, Kelman pointed out. Robots and drones are also increasingly being used to get into small spaces too dangerous for humans. Once a survivor is found, rescuers must decide how best to get them out. Huge equipment such as cranes may be needed to lift slabs of collapsed buildings. Or sometimes it is necessary to amputate a limb "which is crushed under a pillar or a piece of masonry," Kelman said.
BEFORE THE 72 HOURS STARTS
Kelman emphasised that "ultimately, a successful rescue operation starts decades before the earthquake to try to stop the infrastructure collapsing in the first place". During an international rescue operation such as those in Turkey and Syria, it costs an average of $1 million per life saved, he said. "If we would see levels of investment in disaster prevention that we are seeing in disaster response, we would not be in this situation."