JUBA, South Sudan — It is just over a decade since the steamy capital of South Sudan exploded in joy, with revelers singing and dancing through the night to mark the birth of their nation as it split from its old enemy, Sudan.
The new country was cheered on in 2011 by the U.S. diplomats who had midwifed its delivery and the Hollywood celebrities who championed its cause. Billions of dollars were poured into an ambitious state-building project that offered a fresh start to a people weary after decades of war. "Freedom!" they cried.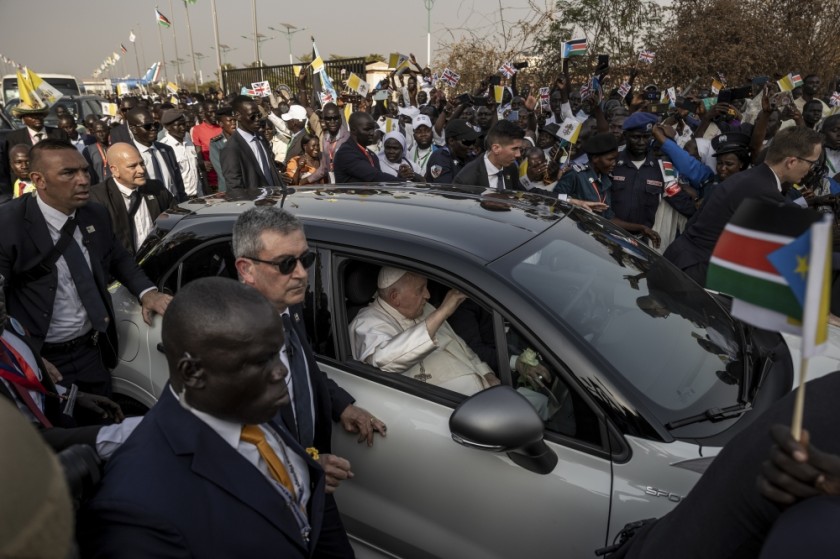 Pope Francis leaves the airport in a motorcade after arriving in Juba, South Sudan on Friday, Feb. 3, 2023. (Jim Huylebroek/The New York Times)
Now that feels like a very long time ago. Engulfed by civil war, famine, and, most recently, floods, the world's newest country has been plagued by schisms and thwarted by leaders who pocketed its considerable oil wealth. No Western leader has ever made a public visit, leaving many South Sudanese feeling forgotten.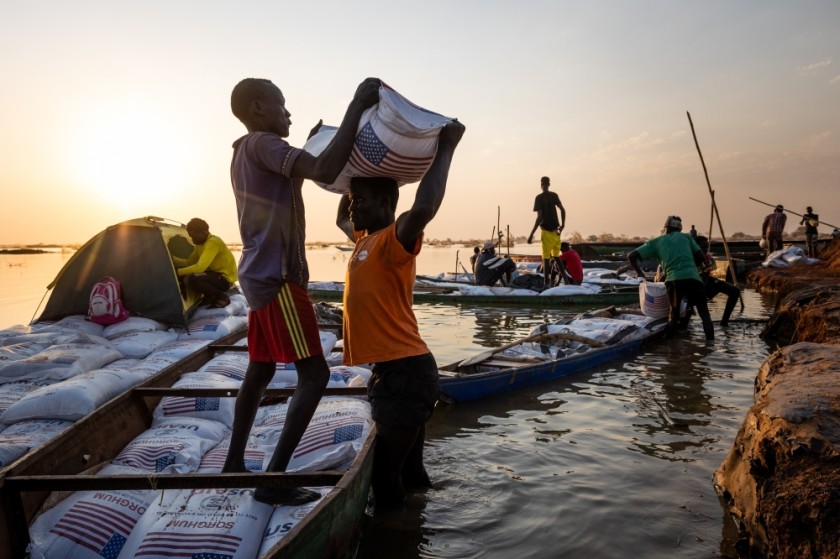 Men deliver food aid, transported overnight in canoes over the floodwater, in Bentiu, South Sudan, early on Feb. 1, 2023. (Jim Huylebroek/The New York Times)
But not by Pope Francis. He arrived in the capital, Juba, on Friday after visiting the Congo — an African tour intended to shine a light on some of the continent's most troubled yet ignored countries.
Crowds gather outside the airport in Juba, South Sudan to welcome Pope Francis on Friday, Feb. 3, 2023. (Jim Huylebroek/The New York Times)
Francis immediately issued an urgent appeal to the country's leaders whose violent squabbling plunged South Sudan into civil war in 2013 and continues to sow chaos despite a shaky peace deal.
"No more bloodshed, no more conflicts, no more violence and mutual recriminations about who is responsible for it," Francis said in the gardens of the Presidential Palace, sitting alongside South Sudan's president, Salva Kiir, and other authorities. "Leave the time of war behind and let a time of peace dawn!"
Excitement has been building for weeks in Juba, where colorful murals of Francis appeared on the ramshackle streets, and authorities laid the route to the papal nunciature with a new tarmac road, still a rarity in South Sudan.
At Juba International Airport, Francis was welcomed by Kiir, a former rebel who has led South Sudan since 2011, much of it locked in a vicious feud with archrival Riek Machar.
The last time the pope met both men was at the Vatican in 2019 when, in a dramatic gesture, he prostrated himself and kissed their shoes — a calculated show of humility intended to pressure them into resolving the rivalry that sparked the civil war and led to an estimated 400,000 deaths.
The two men also represent South Sudan's biggest fault line: Kiir is a member of the Dinka ethnic group, which dominates the government and security forces, while Machar belongs to the Nuer, the Dinka's bitter rivals.
If those leaders expected that Francis would be an entirely sympathetic visitor, they received a rude shock Friday when he lashed out at the notorious, grand-scale corruption that has seen billions of dollars in oil revenue vanish into thin air — much of it the fault of the leaders gathered around him.
"Future generations will either venerate your names or cancel their memory, based on what you now do," he said. "The inequitable distribution of funds, secret schemes to get rich, patronage deals, lack of transparency — all these pollute the riverbed of human society. They divert resources from the very things most needed."
Francis came with unusually prominent companions: the archbishop of Canterbury and the symbolic head of the global Anglican Communion, Justin Welby, and the leader of the Church of Scotland, Iain Greenshields. In the colonial era, Christian missionaries in Sudan were divided by the Nile River, with Catholics allowed to preach on one side and Anglicans on the other.
Now the "three wise men," as some have dubbed them, are uniting for a joint pilgrimage — the first of its kind, church leaders say — in an effort to bring the plight of suffering South Sudanese to global attention.
Sudan is a predominantly Christian country of 11 million people, of which the Catholic Church claims 6 million, including Kiir. Even so, the papal kiss of 2019 had only modest impact on the country's deadly divide.
Although Kiir and Machar formed a unity government in 2020, local conflicts continue to rage, often manipulated by national leaders, especially Kiir, as a means of undercutting rivals or consolidating power, analysts, and diplomats say. A plan to integrate dueling armed groups into the national army is incomplete.
In a brief address Friday, Kiir said the pope's shoe-kissing gesture "did not go in vain." But he acknowledged that "not everyone is satisfied with the pace" of progress toward peace, and he repeated his pledge to resume negotiations with a number of holdout rebel groups — talks that are being convened by the Community of Sant'Egidio, a group close to Francis.
In the latest violence, at least 27 people, including five children, died in clashes Thursday in Central Equatoria state.
Lamenting that "massacre," Welby admonished South Sudan's divided leaders Friday. "We expected more. You promised more," he said. "The answer to peace and reconciliation is not in visits like this. But it is in your hands."
South Sudan regularly tops the least desirable rankings. Last year, Transparency International rated it as the world's most corrupt country. (In this year's list, published Tuesday, it was beaten by Somalia for first place.) The United Nations calls it the deadliest country for aid workers.
And a growing pile of investigative reports has documented how billions of dollars in oil revenue continue to vanish. Yet nobody seems to know where the money has gone — not even the official in charge.
"I don't see the money," Puot Kang Chol, South Sudan's minister for petroleum, said in an interview. "I only see figures on paper."
Chol, 38, a Machar aide who joined the unity government in 2020, said oil revenues were directed by the finance ministry, which is controlled by Kiir.
A sense of malaise pervades Juba, where glitz meets gnawing poverty. Hulking four-wheel-drive vehicles — often the latest Toyota Land Cruisers — jostle for space with goats and rickshaws. Luxury hotels offer comfort at Manhattan-worthy prices.
At the Pyramid Hotel, an 11th-floor restaurant offers panoramic views of the Nile and an adjoining shantytown. The fourth floor has the Las Vegas Casino, where, on a recent afternoon, Chinese-speaking gamblers gathered around the blackjack table.
The depth of South Sudan's dysfunction only emerges in places such as Bentiu, the capital of Unity State, 330 miles north of Juba.
With large oil plants nearby, Bentiu should be a boomtown. Instead, it resembles an impoverished village, with no electricity or running water and few concrete buildings. The wreckage of a crashed airplane is parked at the gate of the city airstrip, used largely by the aid workers who provide what services exist.
Everywhere, there is water. Floods that began three years ago, linked to climate change, now stretch across an area larger than Switzerland, impacting 1 million people, satellite images published by the U.N. last month show.
U.N. peacekeepers have built 55 miles of levees to prevent hundreds of thousands of refugees from being swamped again. Every day, they patrol the 8-foot-high barriers to check for cracks that could presage a catastrophic collapse.
Water is not the only danger. Most days, Nyayien Yow, a widowed mother of five, paddles out into the floodwater by canoe, where she clambers up semi-submerged trees to collect firewood for sale in a local market.
Cobras and other poisonous snakes lurk in the branches. Then, last month, she was viciously beaten by a man who accused her of banging into his canoe.
With little law or order in Bentiu, Yow didn't even consider reporting the assault to authorities. "I couldn't do anything," she said simply. "He is a man."
She eventually found help at a nearby shelter run by the International Rescue Committee, which supports women hit by an alarming surge in gender-based violence in recent years.
Long-standing worries about the health of Kiir, 71, resurfaced in December after video footage showed him urinating on his pants at an official event. Weeks later, the feared intelligence agency, the National Security Service, detained seven employees of the state broadcaster, accusing them of leaking the footage.
The incident highlighted Kiir's increasing reliance on the NSS, said Brian Adeba of The Sentry, a research group. "It's an army within an army, the regime's praetorian guard," he said.
Actor George Clooney, the co-founder of The Sentry, was once a powerful advocate for South Sudan's independence and is now a fierce critic of its government.
The U.S. government, which gives $1 billion in annual aid to South Sudan, has signaled its displeasure with Kiir by blocking nonhumanitarian funding for his country at the International Monetary Fund and the World Bank.
Still, some South Sudanese are determined to keep alive the dream of 2011 and to move, as Francis said Friday, "from words to deeds."
On a recent evening, local comedian Akau Jambo, 25, had a drink at The Baobab House, a fashionable bar in Juba, with friends who, like him, had grown up in refugee camps in Kenya or Uganda.
Despite everything, they had returned to South Sudan determined, he said, to make the best of their new country.
"We can't wait for things to change," he said. "We have to do it ourselves."
This article originally appeared in The New York Times.