The parameters of jazz are very broad, and the Kenny Garrett performance at the Royal Opera House of Musical Arts this weekend may have surprised some, and put some classical jazz aficionados out of their comfort zone. The boundaries of that definition were stretched and explored to the limits of free jazz improvisation in both concerts, challenging and rewarding the Muscat public.

Multi award-winning saxophonist and composer, Kenny Garrett graced the ROHMA stage on Thursday and Friday evenings, supported by some incredible musicians in the rhythm section. The sheer vibrancy, talent and passion exuding from their music was powerful enough to win over Muscat audiences, leaving them dancing in the aisles and whooping for more after each two hour, non-stop set.
Garrett, appearing on stage in an eye-catching, shiny metallic suit, launched straight into the first number taken from his latest album, 'Sounds from the Ancestors' in a fairly mainstream style. Immediately the piano solo from Keith Brown suggested what virtuosity was in store, with its modal style and stunning dexterity on the house's Grand. Kenny Garrett's first solo took off into a more contemporary vein, his iconic rocking up and down as he lost himself into free improvisation, making a compelling visual image for the listener.
He was backed by Ronald Bruner on drums whose fast, intrepid hard-bop influences of Art Blakey and Tony Allen were clearly evident throughout the show. It was a long, loose-structured opening number and challenging for some listeners, but the great rapport between the musicians made for a tight performance, including Melvis Santa's vocal lines being integrated into the texture of the sextet.
The second, more accessible number was funky, based around catchy singable riffs, an understated piano solo and driving rhythms from Bruner.
Contrasting again, the third piece, the Afro-Cuban, "Sounds from the Ancestors", started with Kenny playing a slow organ melody which gave way to full bodied Gospel, almost South African in style, built on funky repetitive riffs. He encouraged the audience to clap along by way of participation, but didn't introduce the songs by name, so it was hard to follow their origins or inspirations.
The next number returned to a more mainstream, modal quality with some fast drum improvisation building up to a rhythmic frenzy and then suddenly melting into a lyrical riff over which the audience was encouraged to call and respond 'Badié', for an extended outro.
A pivotal moment and highlight of the concert was the sixth number, "Soldiers of the Fields", played by the Quartet. It featured upright bassist, Eric Wheeler, in a chance to show his dazzling technique with a fast and dexterous non-stop walking bass line. The Quartet was reduced to a Trio as pianist Keith Brown slipped off stage and finally a saxophone solo, cadenza-style, gave Kenny Garrett the opportunity to prove just how superb his technique is.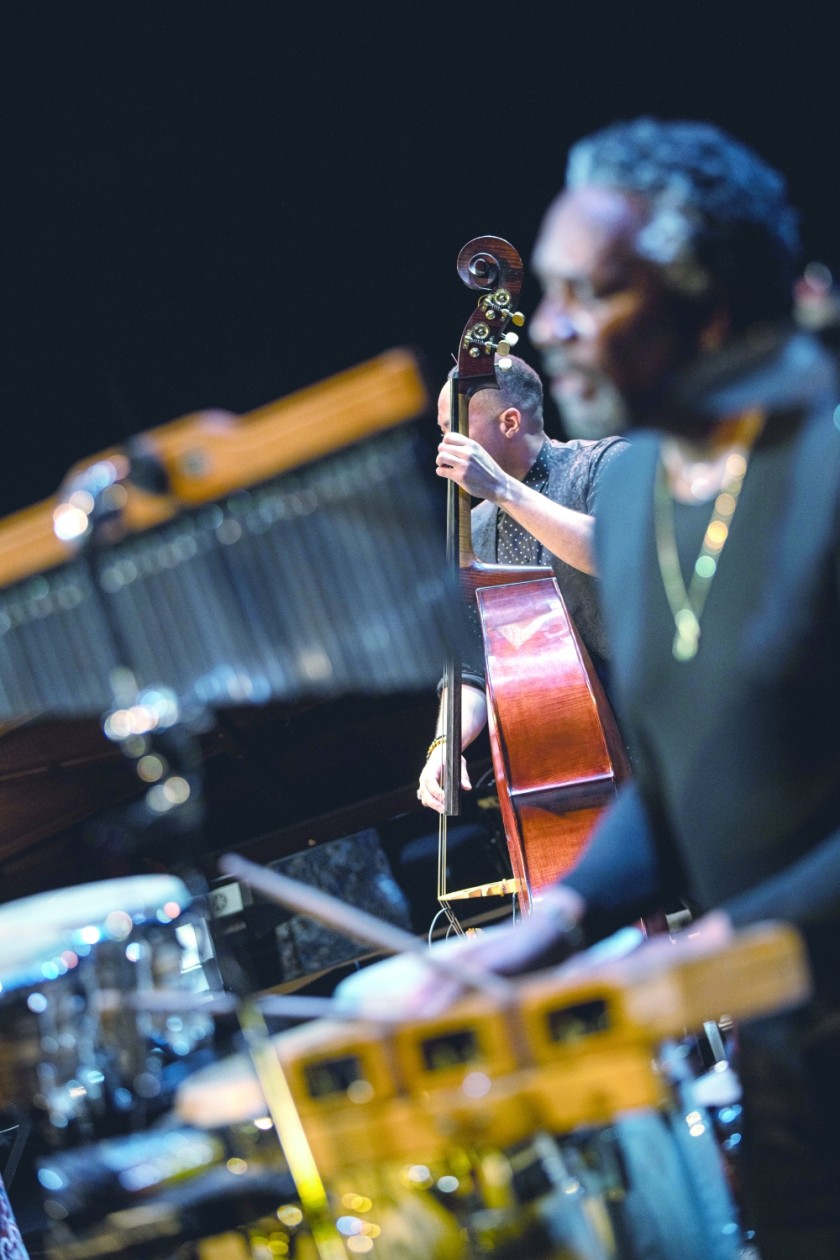 His unquestionably faultless, unflinching cascade of inventiveness flowed on without breath or pause for an extended solo until finally relieved by the return of the rhythm section and another virtuoso piano solo. The rapturous applause he received reflected an awe inspired by such impressive control.
The audience was brought back to earth with the following hip-hop Blues, and encouraged to join in the vocal riffs as band members filed off stage one by one, Farewell Symphony-like, until just Garrett and Bruner were left to bask in the glory.
Prolonged suspense suggested to some that there would be no encore, but house lights dimmed and the band returned to the stage with a slow melodic riff carried by bass and piano, again using modal, quartal harmony in a short and accessible earworm. It morphed into a funky Finale with solo vocal interjections from Melvis Santa, at last her own chance to shine. This time the farewell symphony routine left Bruner alone on stage hurling his drum sticks away to follow his fellow musicians, leaving an empty stage with just echoes of a brilliant performance teasing in the air.