MUSCAT: Morocco's Mohammed El Morabity topped the 47-kilometre first stage of Oman Desert Marathon 2023 with an impressive time of 3 hours and 53 minutes on Saturday.
Defending champion Rashid El Morabity, brother of Mohammed, came in second eight minutes later at 4 hours and 1 minute.
Earlier, the eighth edition of the annual Oman Dessert Marathon (ODM) kicked off on Saturday morning in Wilayat of Bidiya from Al Wasil Fort, with four runs. While the race is usually reserved for professional marathon runners with distances such as 165 km, this year's race also included a children's 2 km run, a 5 km run, and 10 km.
The four-day 165 km started on January 21 and it will end on January 24. It is divided into four stages: 47 km distance on day one, 55 km on day two, 42 km on day three and 21 km on the fourth and final day.
When asked about his experience on day one, Rashid said he mainly enjoyed going head-to-head with his brother.
"The weather was pleasant today. I was mainly competing with my brother, and we enjoyed the 47 km run. This route had various terrains, including tall sand dunes, wadis, and flat land," he said.
At around 24 km, Rashid and Mohammed El Morabity were going head-to-head.
Soon after the Moroccan brothers made it to 23 km of the route, they were followed by Omani runners, Saleh al Saidi and Sami al Saidi.
This year the terrain was unusually green, due to the rains that fell over the area in recent days.
Saleh al Saidi was the first Omani male to complete today's track, with a finishing time of 4 hours and 19.34 minutes, followed by the Sami al Saidi who arrived at 4:30.19.
On the women's side, Morocco's Aziza El Marany proved her athleticism with an impressive finishing time of 5:31:29, and she was shortly followed by Aziza Raji, who crossed the finish line at 5:37:53. The Swiss, Corina Sommer adapted well to the desert, finishing day one as the third woman, with a time of 5:45.47.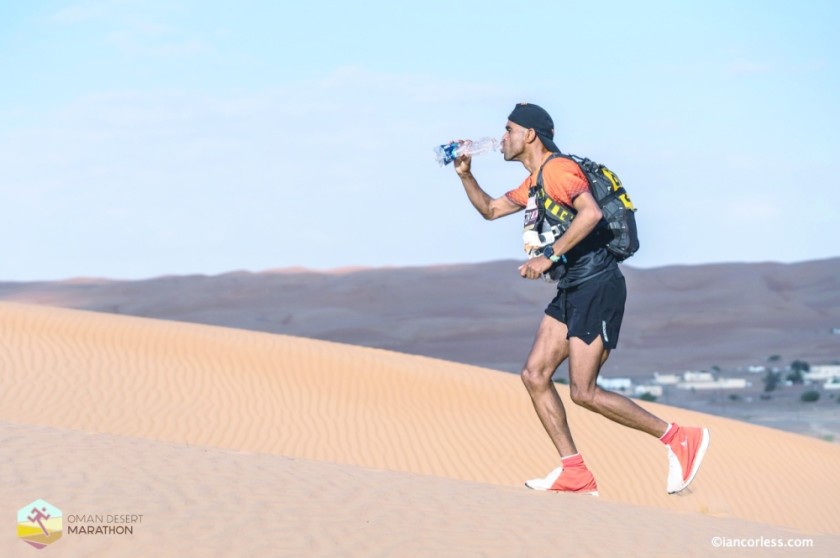 ODM3 day1

ODM1 day1
ODM day1
THREE DROP OUT
Three runners dropped out on day one as it proved to be difficult for one of the runners mentally, while the other two sustained injuries to their knees.
After making it through 30 km, Italian runner Mauro Nadalutti decided that he did not want to continue, in spite of his good spirits, as he did not have the mental strength to tackle Oman's rough dessert. Despite dropping out of the race however, Nadalutti decided to continue enjoying the dessert and cheering on his tent mates.
There were 18 Omani runners, as well as 24 international runners from different parts of the world including Italy, Germany, Poland, the UK, Morocco, France, Spain, Belgium, Ukraine, and Switzerland.
Sunday's route is 55 km, and while the race started with 44 runners, only 41 runners are going through to day two.
The race is being sponsored by a host of entities including the Ministry of Culture, Sports and Youth, Ministry of Heritage and Tourism, Oman Athletic Association, Tanuf, Omantel, Oman LNG, Jawharat Bidiyah Resort, OTSO, A'saffa, Pocari Sweat, Mwasalat, Camelback, Lulu Hypermarket, Oman Air, Tactical Trading, and Al Forn Cafe.
ODM DAY 1 RESULTS
1. Mohammed El Morabity (MAR) 3:53:31
2. Rashid El Morabity (MAR) 4:01:51
3. Saleh al Saidi (OMA) 4:19:34
4. Sami al Saidi (OMA) 4:30:19
5. Hamdan al Khatri (OMA) 4:31:53
6. Evgenii Glyva (UKR) 4:45:47
7. Moosa al Balushi (OMA) 5:13:46
8. Ghaith Saif (OMA) 5:23:35
9. Aziza El Amrany (MAR)-f 5:31:29
10. Aziza Raji (MAR)-f 5:37:53