This week has been a time to hibernate, braise and simmer, with wild weather across the country in addition to the usual interholiday lull. But next week brings the start of 2023 and, for most, a return to routine. It's a time for easy food — and recipes that help clear your kitchen and your head. If you stockpiled root vegetables, alliums, herbs, greens and the like for holiday cooking, the recipes below will help you face the future. Cheers!
1. Smoky Lentil Stew With Leeks and Potatoes
Rustic with deep flavour, this stew improves after a day in the fridge. Make the whole recipe, and eat it over several days — or freeze it for later. If you can't get small Spanish Pardina lentils or French lentilles du Puy, use any size green or brown lentil. (Carnivores may want to add chorizo or jamón.) The stew is rather brothy at first, but thickens upon sitting. Thin with a little water when reheating, as necessary. For optimum results, be sure to use fruity, zesty-tasting extra-virgin olive oil — it really makes a difference.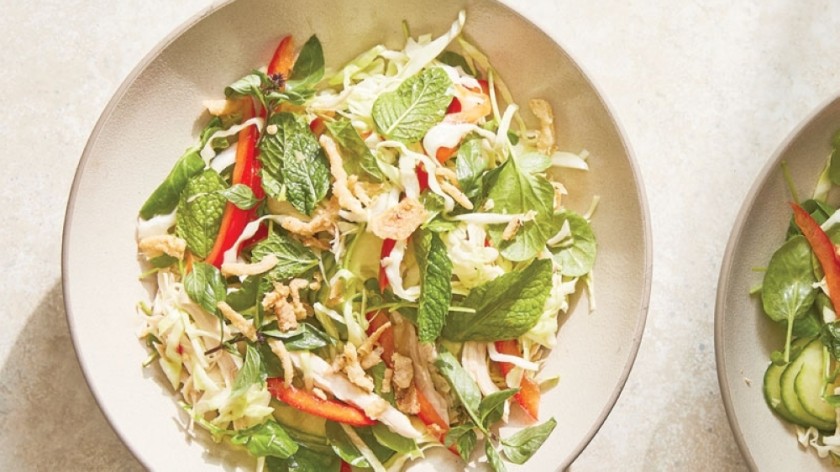 2. Chicken and Herb Salad With Nuoc Cham
Nuoc Cham, a Vietnamese sauce bright with lime juice and chile, is tossed into this simple, satisfying salad to give it a salty-sweet finish. Thinly sliced bell pepper and shaved cabbage provide crunch, while meat pulled from a store-bought rotisserie chicken — or any leftover chicken — soaks up the dressing. Serve this by itself, or alongside steamed rice or room-temperature cooked rice vermicelli.
3. Roasted Carrots With Shallots, Mozzarella and Spicy Bread Crumbs
In this colourful, crunchy-topped vegetable dish, roasted carrots and shallots are topped with puddles of gooey mozzarella, while herbs, olives and a big squirt of lemon at the end add just the right level of tang. Serve this as a light, meatless meal on its own, or as a vibrant side dish to a simple roast chicken or fish.
4. Chile-Oil Fried Eggs With Greens and Yogurt
This recipe, adapted from a dish served at MeMe's Diner in Brooklyn, is a brunch power move. Eggs sit atop wilted greens on a bed of yogurt, all surrounded by seeded chile oil. The fresh yogurt cuts through the chile oil's heat, and the seed mix adds layers of flavour and crunch. If you're feeling lazy — it is brunch after all — skip the greens, or use everything spice mix and peanuts, for the seed mix. But don't skimp on the chile oil: It's the best part. Scale it up to have extra on hand for future use, or use store-bought if you like. (You'll need about 1 cup for four servings.) Serve with toast, to sop up the extra oil.
5. Chepa Vepudu (Fish Fry)
As Indian cookbook author Archana Pidathala worked to translate and rewrite her grandmother's collection of recipes from Andhra, in southeastern India, one of the first dishes she mastered was chepa vepudu, a simple fish fry. In Kurnool, where Pidathala grew up, her family would eat the spicy, crisp fish dish when there was a fresh catch of murrel available, also called bull's-eye snakehead, a delicious freshwater fish. But almost any fish, cut perpendicular to the spine, into small steaks, will do nicely. Marinated quickly in a simple spice paste, and shallow-fried, the fish becomes golden and crisp all over, and takes on the flavours of caramelised ginger and garlic, browned coriander seeds and red chile. Be sure to use a nonstick pan, or a well-seasoned cast-iron pan, to keep the fish from sticking or the marinade from falling off.