When I told a friend that I planned to stay in an off-the-grid cabin on a farm in Hawaii, her response, a combination of confusion and intrigue, mirrored my general attitude towards camping and most outdoor activities: "You're doing this voluntarily? Doesn't Hawaii have literally hundreds of the most beautiful hotels and resorts?"
She wasn't wrong.
Hawaii does have hundreds of hotels spread across its islands. And for someone who generally considers a jog through the park an outdoor adventure, my choice of lodging in one of the most beautiful places in the world was understandably confounding.
But I wanted a different kind of adventure than the kind people tend to associate with the islands, one that didn't involve parking myself on a beach with a mai tai. I planned to kayak, snorkel, go on local tours and view local art. I wanted to have fun, but I also wanted to learn something and support local businesses in the process.
I also knew that making local and Native-Hawaiian-owned businesses a bigger part of tourism was a major goal of the Council for Native Hawaiian Advancement, the organisation recently tasked with marketing the state to the rest of the country.
"Have fun, I guess," my friend told me a few days before I left.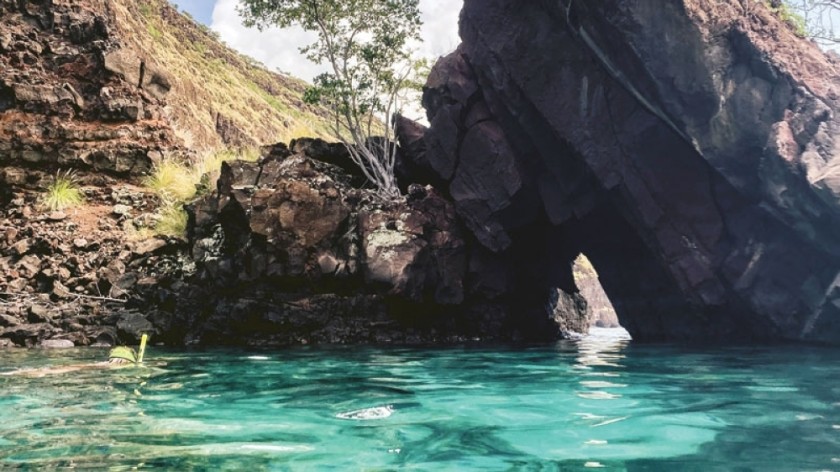 2209371
I planned to.
Farm Stay
I was drawn to the Inn at Kulaniapia Falls in the hills of Hilo by its stunning 120-foot waterfall and because it offers a number of interesting activities. It also offers a window into how tourism in Hawaii and other overtouristed places could thrive in the future, without harming the environment or the people who call a place home.
The inn is on one side of a more than 40-acre property; on the other side is a farm with three cabins that guests can rent (I paid $147 a night in November). The waterfall, along with solar panels, powers just about everything, including the cabin where I stayed. Rainwater is also collected and goes through a multistep filtration process; it's used for drinking, bathing and cleaning. The entire operation is an exciting experiment in sustainable and regenerative travel (and living) that's worth watching and experiencing — even for me, a skeptic of paying hundreds of dollars to be outside.
Within an hour of checking into my cabin, which did not have a private bathroom or electricity but did come with an ocean view and an extremely comfortable bed, I was kayaking under the falls, an experience that made me utter, out loud, that this was the beginning of my outdoor girl era. I spent hours walking along verdant trails (failing miserably at identifying most of the plants), sitting in bamboo gardens and swimming in cool, still waters. Looking up at the trees from below the falls, I felt the need to put away my phone and disconnect.
And this is exactly what everyone who works on the property hopes guests will do, said Christophe Bisciglia, one of the inn's partners. Access to Kulaniapia is restricted to overnight guests and those who register and purchase day passes ($49 for adults, $29 for children) in advance, an arrangement that limits the number of visitors, Bisciglia said, and ensures that "each guest gets to enjoy our wild and natural setting." He added that more than half of the full-time staff is of Native Hawaiian descent and many of the activities offered on the property involve local businesses.
One of those activities involves rappelling down the falls with a guide, an activity I decided against. Instead I went on a farm tour ($29) led by two members of the Kulaniapia "farmily," as they refer to themselves. About a dozen members live there full-time. Many are part of its community project, which allows them to gain experience in hospitality, farming, construction and other skills.
On the tour, I learned about the vegetables and fruits grown on the farm, including taro, bananas, cauliflower and broccoli, among others. These are the ingredients used in the farm's cooking classes, which are offered a few times a week and give "farm-to-table" a very literal and personal meaning.
As I explored I occasionally walked by the inn's kitchen and caught glimpses of Gregg Lockwood, the chef, preparing the night's dinner. Served on the lanai, or veranda, with a view of the falls, trails and gardens, Lockwood's dinner included Kauai prawn and mahi mahi ceviche with ahi tuna poke and sushi rice. Another course was kabocha squash soup with coconut cream and pancetta. The third course was opakapaka (one of seven snapper species endemic to Hawaii) with poi from Japanese taro and ginger-lemongrass broth, snap peas and grape tomatoes. Dessert was coconut ice cream pie with a macadamia nut crust and Hawaiian dark chocolate ganache.
For the indecisive or easily overwhelmed, like me, this meal was ideal not only for its rich flavors and freshness, but also because there were no decisions to be made. Gregg chose local meats, fish and produce and which wines to pair with each course. — NYT