MUSCAT: Cycle KOM –NRO powered to the opening honours of the Oman Cycling Association (OCA) League Championship by winning the 47km team time trial in Al Sawadi on Saturday.
Cycle KOM, captained by seasoned cyclist Paul Willcox, claimed the top honours with 250 points by finishing in one hour one minute and five seconds.
The other team members included Hashim al Farsi, David Hynes, Daniel Baldwin and Greg Pollard.
Oman Club finished second with a timing of 01:03:02 (230 points) and Oman Royal Army team was third on 01:03:19 (210 points) in the first stage of OCA League competed by 18 teams.
Salalah Club (01:03:21 – 200 points) came in fourth spot and Capital Team (01:04:39 – 190 points) finished fifth.
Talking to Oman Daily Observer after his team's win, Paul Willcox said it was nice for the team to defend the stage podium position.

IMG-20221022-WA0023
IMG-20221022-WA0012
IMG-20221022-WA0022

IMG-20221022-WA0013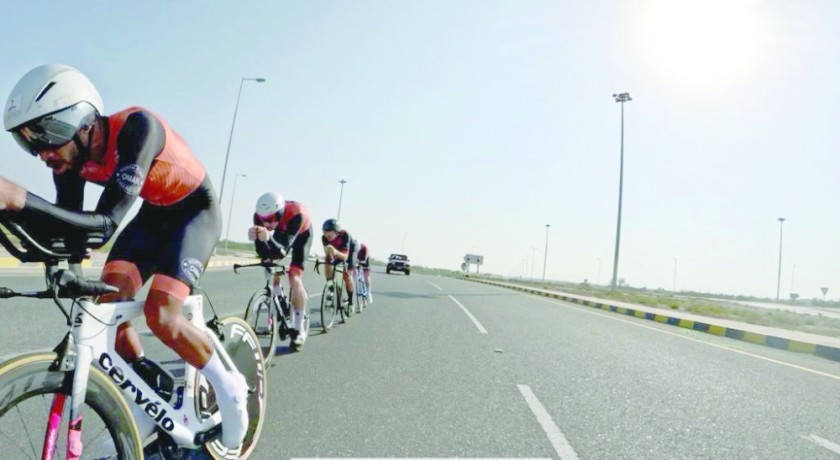 IMG-20221022-WA0029
"We were clear favourites being the winners from last season and having strong time triallists within the team, however this also added to the pressure. Although we won last year, it nearly unravelled when we lost two of the team early on," the cyclist from the United Kingdom said.
"We wanted to make sure not to repeat the same mistakes, so we have been training hard together of late. This paid dividends today, and we finished with all five. It really was a terrific team performance and we felt like we were in control of the whole race," the veteran cyclist added.
"We averaged 46.5km/h for the 47km. And winning by 2 minutes is a big margin in such a TT distance," he said.
Izki (01:08:26), Bahla Club (01:09:26), Gulf Cycles (01:09:34), Al Musannah Club (01:10:06) and Wave Riders (01:10:06) took up the sixth to 10th positions respectively.
The OCA League Championship includes eight stages featuring 18 cycling teams of the Sultanate of Oman.
The second stage of the OCA League will be a road race at Seeb Airport Loop on October 28.