Muscat: Dr Hussein Ali Mwinyi, President of Zanzibar and his spouse arrived here on Tuesday, on an official visit to the Sultanate of Oman lasting several days.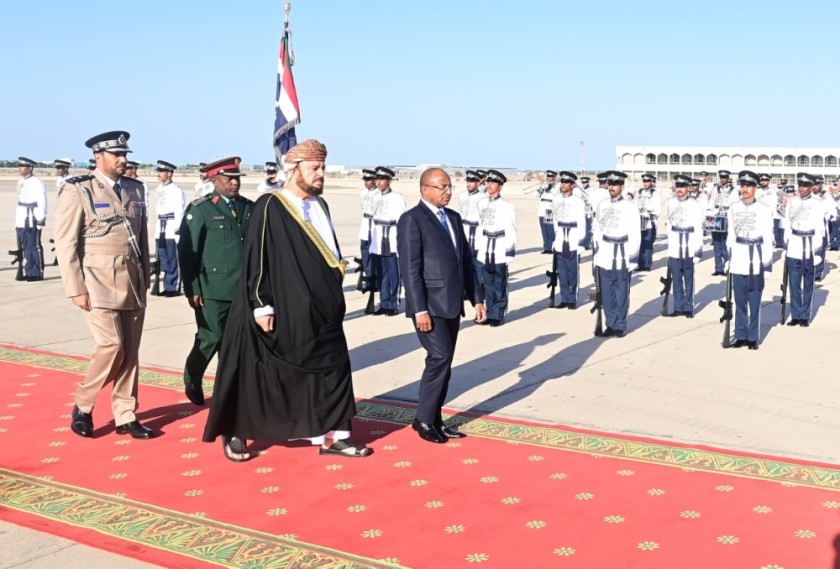 HH Sayyid Asaad bin Tarik al Said, Deputy Prime Minister for International Relations and Cooperation Affairs, Personal Representative of His Majesty the Sultan led the welcoming party at Muscat International Airport for the guest and his accompanying delegation.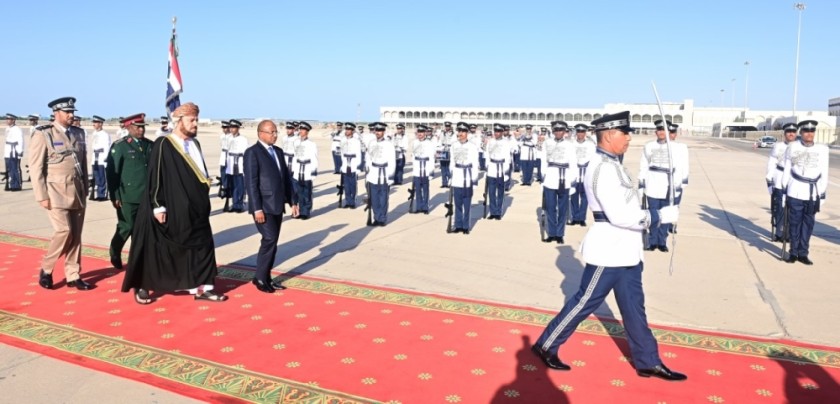 The President of Zanzibar was accorded an official reception. When the jet touched ground at the airport, HH Sayyid Asaad met the guest and his spouse at the foot of the ramp, welcoming them and wishing them a fruitful visit and a pleasant stay.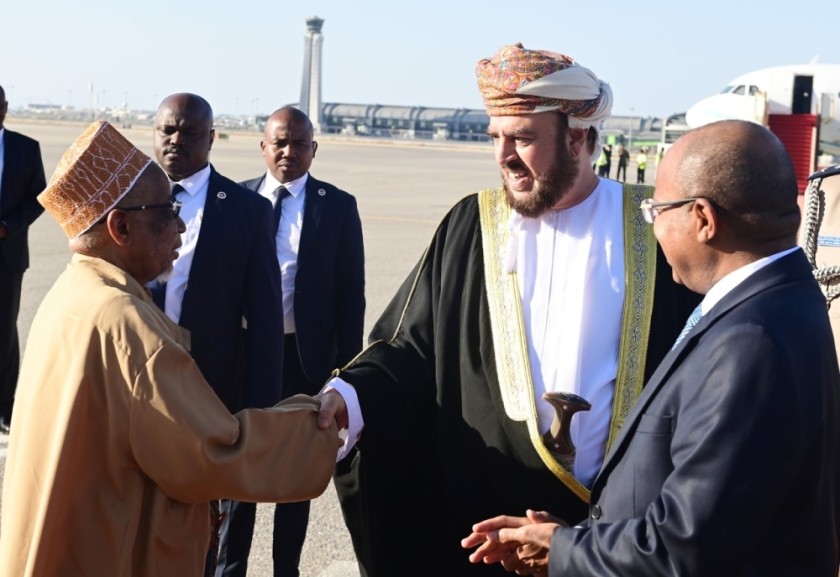 The President was also received by Sayyid Badr Hamad al Busaidi, Foreign Minister.
After that, the President introduced members of his accompanying delegation to HH Sayyid Asaad.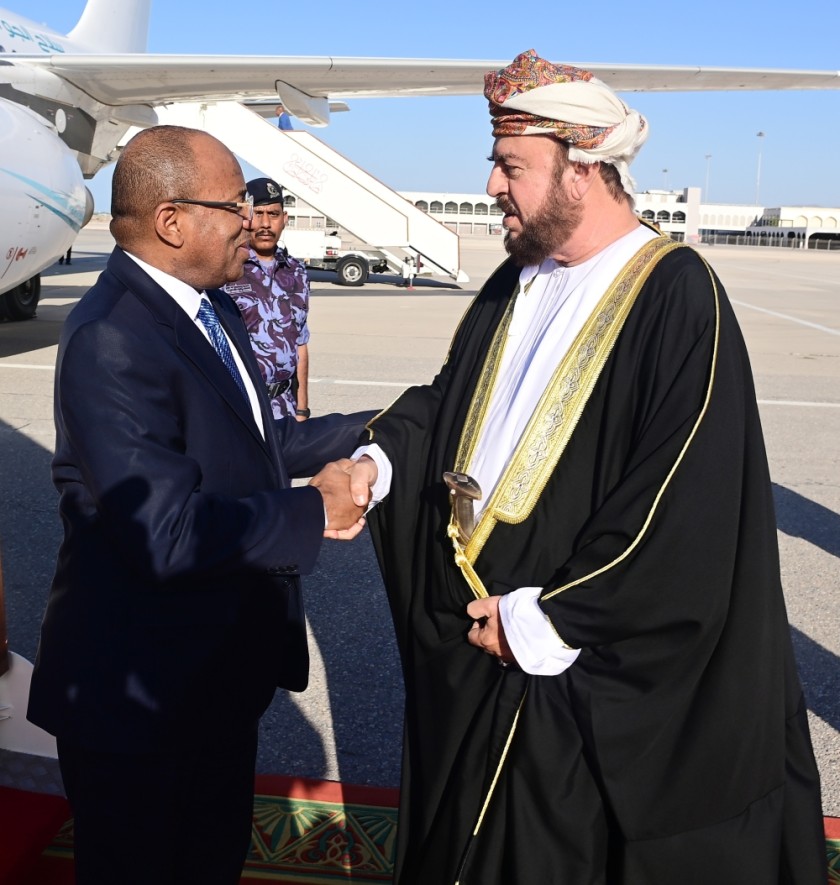 Then, HH Sayyid Asaad accompanied President of Zanzibar to the Dais of Honour where the Royal Oman Police guard of honour saluted them and played the National Anthem of Tanzania and the Royal Anthem of Oman.
After that, the commandant of the guard of honour proceeded to the dias asking the President and HH Sayyid Asaad to inspect the front row of the squad.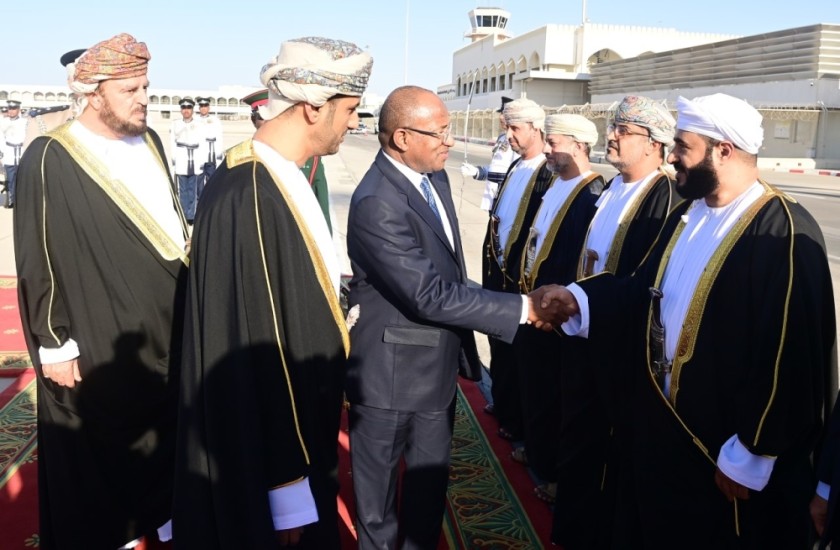 Then, Dr Hussein Ali Mwinyi, President of Zanzibar shook hands with senior members of the welcoming party. The officials included Dr Abdullah Mohammed al Saeedi, Minister of Justice and Legal Affairs, Abdulsalam Mohammed al Murshidi, Chairman of Oman Investment Authority, Eng Said Hamoud al Maawali, Minister of Transport, Communications and Information Technology, Dr Mohammed Said al Maamari, Minister of Endowments and Religious Affairs, Tariq al Hussaisan, Ambassador of the Kingdom of Morocco to the Sultanate of Oman (dean of the diplomatic corps), Nasr Khamis al Sawaee, Attorney General, Eng Ibrahim Said al Kharousi, Undersecretary of the Ministry of Heritage and Tourism for Heritage, Dr Khalid Said al Jaradi, Head of the Protocols Department at the Foreign Ministry, Mohammed Nassir al Wahibi, Undersecretary of the Foreign Ministry for Administrative and Financial Affairs (Head of the Mission of Honour), Saud bin Hilal al Shithani, Ambassador of the Sultanate of Oman to the United Republic of Tanzania, Said Salim al Harthy, Consul General of the Sultanate of Oman to Zanzibar, members of the mission of honour, senior officers at the Sultan's Armed Forces (SAF) and the Royal Oman Police (ROP), as well as members of the Tanzanian Embassy in Muscat.

The President of Zanzibar is accompanied during the visit by an official delegation comprising Shaikh Saleh Omar Kaabi, Grand Mufti of Zanzibar, Saada Mkuya, Minister of Finance and Planning, Dr Khalid Salum Mohammed, Minister of Infrastructure, Communications and Transport, Mbarouk Nassoro Mbarouk, Deputy Minister of Foreign Affairs and East African Cooperation, Dr Mwinyi Talib, Attorney General, Masoud Abdallah Balozi, Secretary in the President's Office and Abdallah Abasi Kilima, Ambassador of the United Republic of Tanzania to the Sultanate of Oman.