Muscat: India's Minister of State for External Affairs, V. Muraleedharan, who is on an official two-day visit, arrived in the Sultanate of Oman on Monday.
As part of his visit, an agreement was signed on Monday between Oman News Agency (ONA) & Asia News International (ANI) that will help in the free flow of information and news between the two countries.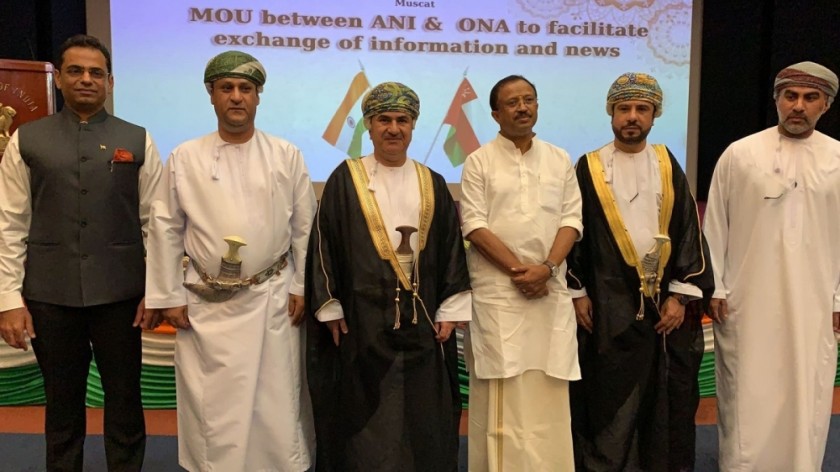 Both countries have historical relationships, but sometimes we feel that real happenings do not get reported. The positive side of the news should be uncolored and unbiased, so these two agencies taking up this cause will help in understanding the other country. This will help people understand each other and enhance people-to-people ties.
Speaking to the Observer, He said, "I am happy to be in the Sultanate of Oman, a beautiful country with kind people with a cherished history of friendly contact with India. This is my second visit to Oman. I last visited in December 2020 in the middle of the global pandemic. It is such a pleasure to see Oman being fully open and normal again; all credit to the excellent leadership and management by the Oman Government and the resilience of the Omani people in having successfully put the pandemic behind."
The minister launched the newly-designed Library at the Indian Embassy.
On Monday morning, he officially unveiled the statue of Mahatma Gandhi, at the Indian Embassy premises, sculpted by Naresh Kumawat. The minister also inaugurated the painting exhibition by the Indian artist Sedunath Prabakaran on 'India and Oman, a Political Journey' and the newly designed Library of the Embassy.
India and Oman share a friendship that can only be called 'special'. Our relationship is rooted in centuries-old historical links and based on mutual trust and respect. Prime Minister Narendra Modi, who visited Oman in 2018, has attached high importance to advancing our ties with Oman, and sustained high-level contact has nurtured our partnership. I am happy that in the post-pandemic phase, physical contact at a high level has resumed. Mohammed bin Nasser al Zaabi, Secretary-General of the Ministry of Defence, Sayyid Badr al Busaidi, Foreign Minister, and Qais al Yousuf, Minister of Commerce, Industry and Investment Promotion, have visited India in the first half of this year.