Fourteen passengers suffered minor injuries as Air India Express' Kochi-bound flight from Muscat encountered an engine malfunction on Wednesday.
According to the Civil Aviation Authority, Air India Express flight IX 442 was scheduled to leave at 11.30 am local time.
A fire broke out in one of the engines before taking off from Muscat Airport, which required the evacuation of passengers. Some minor injuries were reported because of the stampede of passengers during the evacuation process. The injured passengers were given the necessary treatment."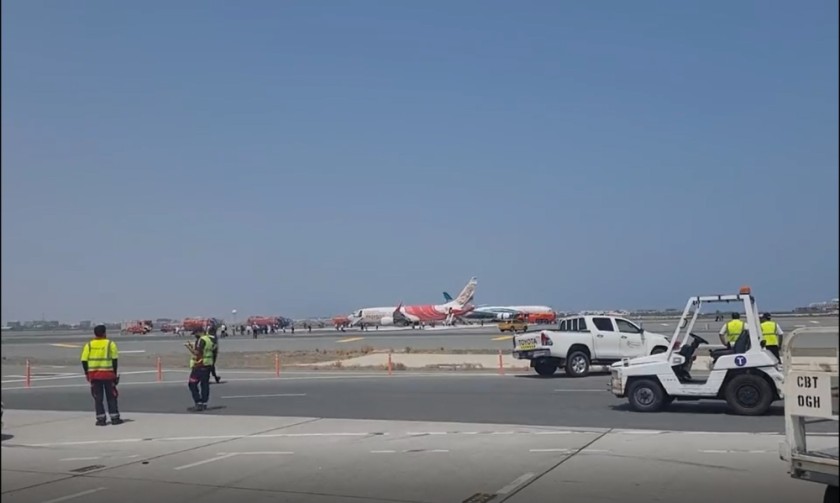 Sources in the CAA and Oman Airports added there was no impact on the safety of the passengers and air traffic.
In its final and third statement, released in the evening, CAA said, "The emergency has ended, and the situation was dealt with professionally as per the procedures with help from specialists and experts, who will complete their investigations to avoid such incidents in the future."
CAA extended thanks to all the aviation sector partners as they helped minimise the potential damage and risks.
Initially confirming the incident, an official at Air India told the Observer, "The flight (IX442) with 145 passengers onboard was taxing towards the runway. It was immediately brought to the remote stand, and passengers were evacuated. While investigations are underway, alternative arrangements will be arranged for the passengers. Some people suffered injuries during the emergency evacuation."
Comments from onboard passengers were not available at the time of writing.
Meanwhile, Air India Express in its official statement said, "Muscat to Kochi flight IX 442, with 141 passengers on board, was preparing to depart from Muscat at 11:20 hours (local time) today. While it was on the taxiway, another aircraft reported observing fumes from one of the engines. However, there was no fire warning indication in the cockpit.
As a matter of abundant precaution and following the prescribed SOPs (standard operating procedures), the crew stopped on the taxiway and activated the onboard engine fire extinguishers. Thereafter, passengers were evacuated from the aircraft.
"Full support was extended by Muscat Airport authorities and the passengers were brought to the terminal building. There are no major injuries reported, except minor bruises to some passengers while evacuating."
The airline further stated that the matter is being investigated by its own Flight Safety Department, as well as the regulatory authorities.
The airlines said it extended all facilities to the guests at Muscat and that a relief flight has been arranged to fly the guest to Kochi later today.
In July, Kozhikode to Dubai flight (also Air India Express) was diverted to Muscat after a burning smell was observed from one of the vents in the forward galley of the flight.