Nehru Centre Art Gallery, Mumbai, was the venue for the recent international art exhibition for artists from the Sultanate of Oman and Sudan.
The 12-day-long event named 'Adwin Petals' marked a new vibe for the 23 artists who took part in the art expo showcasing about 46 of their paintings.
Different varieties of paintings with themes based on cultures, lifestyles, abstract, scenery, flower prints, Buddha, and landscapes attracted the connoisseurs of art.
Mona Rathod, the founder of Incredible Talents, Oman, and Bhoomi Rathod, co-founder, made this dream project accessible to the artists.
Naeema Talib al Bourai, from the Food and Water Laboratories Centre, Oman, was the guest of honour who inaugurated the exhibition.
As a symbolist painter, Mona believes that art should reflect an emotion or idea and she uses different mediums like 3D, mixed media and rare materials.
Explains Mona: "We did not have a single theme as each person's choices were different. We will be bringing in more local Omani talents as we try to display the original artworks of every artist. We endeavour to display the works of art in other countries too."
Mona, being a passionate artist, has since 2018 taken up the cause of sharing her knowledge and vision with her students. As the curator for the Mumbai exhibition, she however did not exhibit her work but made way for others to promote their works.
"Indian artists residing in Oman were privileged to present Omani culture in their artwork whereas artists from India presented their own cultural art and another artist from Sudan presented his works. So these mixed cultural varieties made this event successful," she adds.
As an artist herself, Mona wishes to provide a platform to struggling co-artists to get their artwork recognised.
While setting up Incredible Talents she faced many harsh days for bringing it to recognition concerning competitions, arranging workshops, and attending fairs.
However, till today they have been quite successful in organising over 12 exhibitions so far.
Anjali Ashar, the youngest artist who took part, was attracted to art from her school days and took to painting seriously since 2017. At the Mumbai exhibition, she had a wonderful experience exposed to a wide variety of artworks.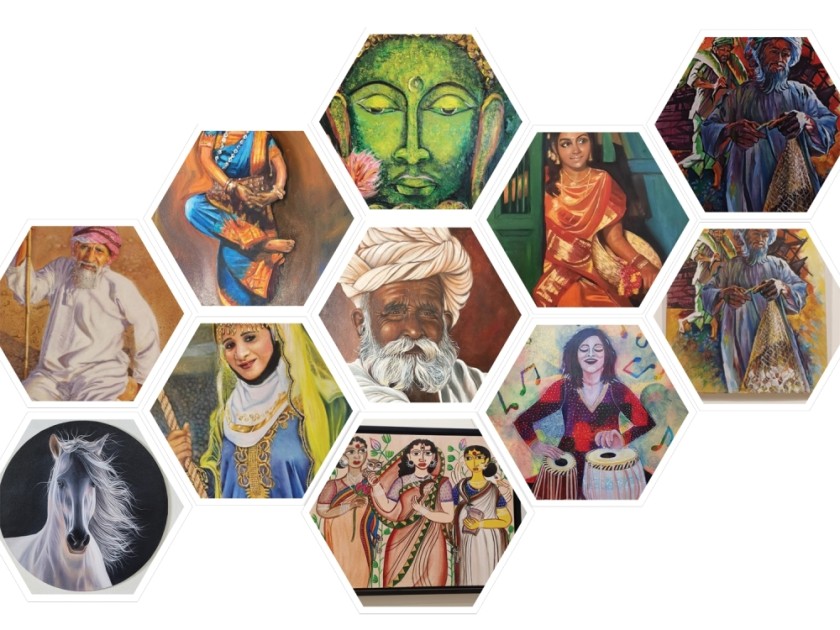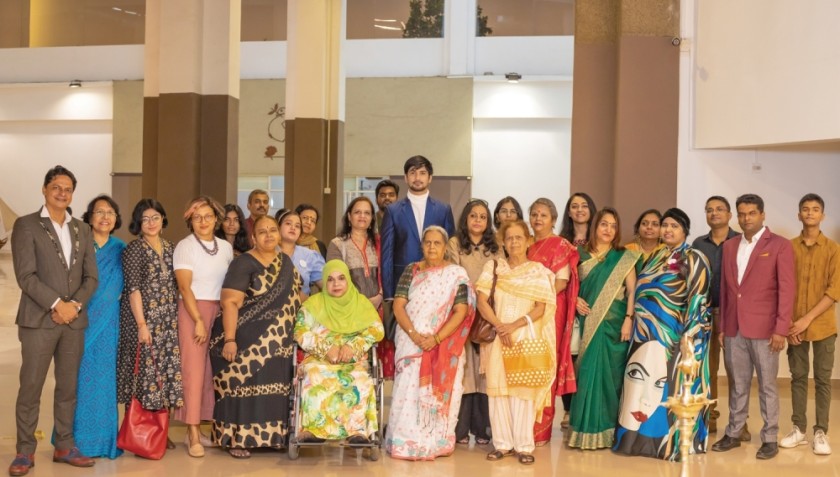 "Two of my acrylic paintings were displayed on the theme of abstract or imaginary portrait done by using bright colours and another one with the technique of pixel art," she says.
Veteran artist and convenor of Rangrez Sushmita Gupta displayed woman-centric works heavily inspired by 'Kalighat Paintings' using acrylic on canvas and named them 'Goddesses All' and 'The Oleander Lady'. It was her organic affinity from her Bengali roots with a touch of humour that stood out. "The narrative of some of the paintings break patriarchal boundaries even though they are from the 19th century and they tell tales of everyday lives of mythology in a simplistic style," she adds.
Asawari Deoras who showcased Indian heritage and Omani influence, says the exhibition was well organised right from the collection of artwork to its return and the experience very enriching. "Incredible Talent is a wonderful concept and they are doing great work in promoting various artforms," she says.
Two of her paintings, 'Nature's Bounty' of date palms, 'Seascape of Oman' and 'Wild Rhythm' showed a lady playing a percussion instrument of India. Asawari who has exhibited at many exhibitions in Oman, UAE and India has her art slowly evolving and moving towards contemporary and abstract expressionism. While Shalini Kartik showcased paintings titled 'Ananta' adapted from classical and traditional Indian art form called 'The Mysore School of Painting.' "I have tried to showcase the elegance, muted colours and attention to detail which is an important characteristic of this style of artwork," she adds. 'Apsara' is another work which portrayed the essence of womanhood and nature done in the Thangka painting style from the Himalayan region, an ancient Tibetan art form preserved in India.
Latha Guru Prasad who also took part likes all mediums and explores fresh ventures.
However, it is Mona's wish that every artist's work should be displayed in each country. "I am trying my best to travel with the artists and their artwork as sometimes the artists will not be able to move about and exhibit their works."
Oman-based Indian and Sudan artists who showcased their works include Dr Ratna Dharmendran, Dr Shalini Gupta Kumar, Sushmita Gupta, Rashmi Dauria, Shalini Varma, Shalini Kartik, Shilpi Nath Dey, Uma Gopinath, Sarojini Datta, Abdelrahman Saad, Asawari Deoras, Soni Budhia, Elizabeth Davis, Latha Guru Budur, Khursheed Farsak Raja, Debolina Majumdar, Anuradha Shanbhag, Aparna Deshmukh, Anjali Ashar, Manju Sharma, Rema Sivakumar, Rakhee Shah and Swapnali Berde.
Incredible Talents plans its next exhibition in Dubai towards the end of the year and at the beginning of 2023 with an exhibition in Muscat.
@lijucherianoman