Nizwa: The Ministry of Higher Education, Research and Innovation recently approved two new Speech and Language Pathology and Occupational Therapy programmes at University of Nizwa.
The two health programmes, the first of its kind in the academic field in Oman, came after a study conducted by the university in 2017 of the labour market and its needs for health rehabilitation services based on statistical indicators of morbidity, population growth and graphical distribution of rehabilitation services.
Occupational Therapy specialisation is concerned with diagnosing and treating functional and motor deficiencies in addition to the psychological and mental aspect. While Speech and Language Pathology specialisation is concerned with the diagnosis and treatment of speech, language and swallowing disorders caused by muscular, psychological or neurological diseases that affect the brain.
Dr Ahmed al Kharusi, Assistant Professor at Rehabilitation and Allied Health professions, told the Observer that "in Oman rehabilitation services are still evolving and they are available in central cities with limited scope", adding that, "the current rehabilitation services in Oman cover widely the acute phase of injury but there is a huge demand for specialised rehabilitation post-acute services such as community rehabilitation, cardiac rehabilitation and rehabilitation for disabled and neurological disorders."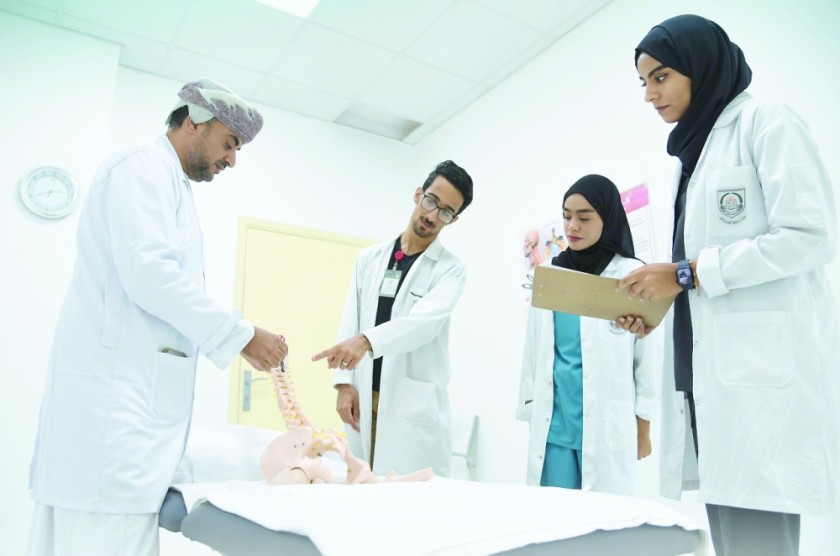 thumbnail_IMG_0251 (1)
The two specialisations are a step forward in Oman Vision 2040 in the field of education and health, Al Kharusi mentioned. "New programmes will ultimately contribute to Oman Vision 2040 and Health Vision 2050 by identifying the need for various health education programmes, and will help to fulfil employment for the new expansion in health services," he added.
The national diploma students and international students showed keen interest in these two new majors as they are new in the market and there is huge demand for these specialisations nationally and internationally.
Both specialisations keep pace with modern health service requirements as they are based on three major analyses of health problems: psychological, biological and social. Al Kharusi confirmed, "There are committees in the University of Nizwa that have identified new areas in health services with the highest potential for developing additional new health programmes. That will be announced once the study of market needs is completed."