Salalah: Oman Airports: A Kuwait Airways flight landed today, Tuesday, June 7th, 2022, at Salalah Airport as the first direct flight between Kuwait and Salalah during the summer tourism season in Dhofar Governorate, Oman.
The Kuwait Airways flight, which arrived at 2:15 pm, was greeted with a traditional water salute and the fragrance of Dhofari frankincense. The Airline is scheduled to operate two weekly flights between the two destinations.
The Kuwait Airways flight was received by Mr. Salim bin Awad al Yafei, Executive Vice-President of Salalah Airport, in the presence of a number of officials from Oman Airports, Salalah Airport, the Ministry of Heritage and Tourism, the Royal Oman Police, and the Embassy of the State of Kuwait in Muscat.
Welcoming the Kuwait Airways flight, Sheikh Aimen Ahmed Sultan Al Hosni, CEO of Oman Airports, said: "On behalf of all colleagues at Oman Airports, its subsidiaries, and all its strategic partners, I am pleased to welcome Kuwait Airways at Salalah Airport. This would not have been achieved without the efforts of our colleagues at Oman Airports Commercial Unit who have been keen to promote our internationally recognized airports, including Salalah Airport; a five-star airport and one of the important national landmarks in the Governorate of Dhofar."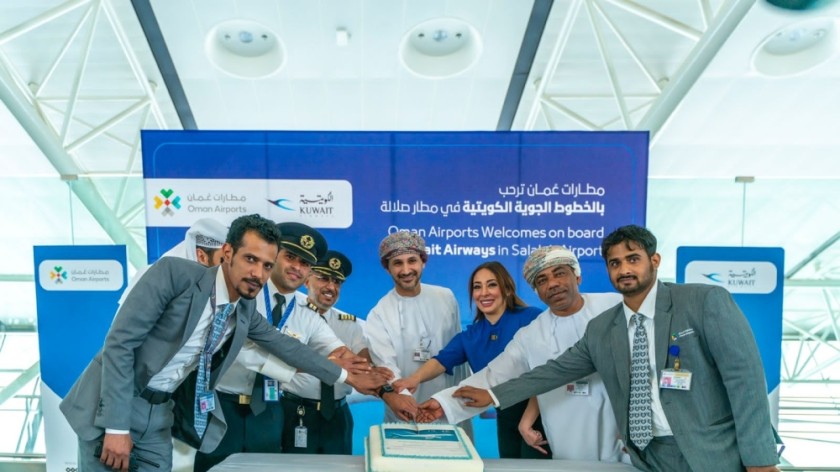 "This direct international line linking the Sultanate of Oman, through Salalah Airport, with the State of Kuwait will not only contribute to the consolidation of brotherly relations and support tourism, economy and trade exchange between the two countries; it also represents a real milestone in our bilateral partnerships. This forms part of our endeavors to offer direct travel options for Salalah Airport through reputable airlines such as Kuwait Airways, which we are always proud of as one of the main pillars of the Gulf tourism sector," Al Hosni added.
The CEO of Oman Airports concluded his speech by saying that these seasonal flights to the Governorate of Dhofar represent an important pillar for the local tourism sector, which is one of the main tourist destinations for GCC citizens and residents. During this season, temperatures drop to below 25 degrees Celsius with seasonal rain showers, making it an important attraction for tourists from the Sultanate of Oman and the GCC countries.
Mr. Salim bin Awad al Yafei, Executive Vice-President of Salalah Airport stated that the return of flights to Salalah Airport this year, after a pause for two years due to the "Covid-19" pandemic, will meet the increasing demand for travel to Salalah from various GCC countries. The governorate is expected to witness a significant increase in the number of visitors this year, especially with the increase in the number of direct flights coming from the Gulf countries.
Al Yafei emphasized that Salalah Airport has become one of the active airports in the region today, due to the direct air traffic it witnesses – whether during the tourist season in the summer, or through international charter flights coming from European countries during the winter season. Al Yafei added that the operation of two Kuwait Airways flights per week will give a great boost to the tourism sector this year, confirming that all teams at Salalah Airport are ready to provide world-class services to welcome guests to the Governorate of Dhofar.
According to Mr. Maen Razouqi, CEO of Kuwait Airways, "Kuwait Airways is pleased to launch its first direct commercial flights to Salalah in the Sultanate of Oman, starting from June 7, with two flights per week, on Saturdays and Tuesdays. This is one of the latest destinations launched by the airline as part of its plans to expand its network around the world; aiming at providing high quality services to our valued customers, with the utmost comfort and luxury to meet their needs and aspirations."
Mr. Razouqi added that the choice of Salalah as a destination came after careful and prudent study of the market, and after considering the high demand for this important destination, which is very popular especially in the summer season. Additional reasons include Salalah's low temperatures, its magnificent mountains, its ancient archaeological sites, and its breathtaking natural scenery and wildlife.
Mr. Razouqi further said that Kuwait Airways provides its passengers with many benefits, including the allowance of three pieces of luggage (32kg per piece) for Royal and First Class passengers, and two pieces of luggage (32kg per piece) for Business Class passengers. Kuwait Airways also allows Economy Class passengers to carry two pieces of luggage (23kg each). In addition to this, the airline allows passengers to have one carry-on bag, not exceeding 7kg.
Mr. Razouqi concluded his statement by appreciating the good bilateral relations between the State of Kuwait and the Sultanate of Oman. He emphasized the importance of strengthening and consolidating these relations, and pointed out that the launch of Salalah as a destination forms another highlight in both parties' historical and well-established relations. He finally extended his thanks and gratitude to everyone that contributed to the success of this new milestone for Kuwait Airways and Oman Airports.