Some said that 'travel has seven benefits' but when travelling to the Republic of Korea (known as South Korea), these benefits are magnified. The reason for this is that South Korea is one of the richest cultures in far East Asia and its people are some of the most exemplary when it comes to dedication and productivity. As a society, they also have a collective ambition of developing and enhancing technology.

Korea5
The first thing a visitor will notice after getting off the plane is how Koreans love order. No matter where you look, Korea's massive cities display some of the best qualities in a modern space — well-organized and well-disciplined. Here are a few observations I've made when I visited the country.
A long-storied past
Korea's age as a country cannot be counted on fingers. It has been a witness to the second world war, the victory of the allied forces in 1945, the fall and end of the rule of the Japanese Empire on the island, the outbreak of a bloody civil war and even the division of the two Koreas (North and South.) South Korea survived many of these turmoils and while it faced many challenging years, it managed to successfully build a modern society filled with peaceful development destined for glory. Perhaps it is important to mention that the Republic of Korea, until the fifties, lived on foreign aid and international support. In just a matter of a few decades, it successfully transformed into a developed country and is now extending help to various countries all over the world.
With the invitation of the Korea Foundation and as a part of its programs to publicize their country and its successes, I joined dignitaries and parliamentarians from several countries to visit the country to gain an insight into their institutions and achievements.
Korea11
The trip began in the capital Seoul — a city of about 10 million people divided into large groups of 25 neighbourhoods. Seoul is a progressive country that balances out green mountains with modern facilities and distinctly, a well-organized public transformation system for buses and trains.
Booked in Lotte Hotel, located in the city centre amidst skyscrapers and business centres and surrounded by luxurious and classy shops, I was made to stay in a room on the 34th floor which allowed me to enjoy the general view of the city from above. From the top, and with the mountains in the backdrop, made me feel as if I was watching a painting by a creative artist. Perhaps it was fate itself that allowed it but I also came during the season of the blossoming of the cherry flowers — a sign of the beginning of the spring season and the moment that the weather bids farewell to the cold winter.
The Korea Foundation
Koreans are very efficient when it comes to their time management. Our work started quickly wherein we had an introductory meeting with Dr. Gwan Lee, the head of the Korea Foundation. Before his promotion as the head of the Korea Foundation established in 1991, he worked previously as a university professor to the prestigious Seoul National University.

Korea6
The meeting allowed us a brief overview of what the foundation does which includes providing diplomatic activities that work to bring people together, organizing programs for foreign delegates' visits, and for supporting and publishing Korean arts and culture. What they do is tap into "soft powers" to add a positive presence on the global scene.
Gwan Lee elaborated on the importance of building bridges of cooperation and partnership between the Republic of Korea and the Arab countries and pointed out the various elements that Korea and the Arab countries own, which help to strengthen cooperation and move it forward towards broader horizons.
The next day's schedule was filled with interviews and discussions. We visited the Korean Parliament, which has about 300 members, representing different regions and states in Korea, and is responsible for legislation and control of the government and various state institutions. What I have noticed is that Koreans are proud of their language. There are a few English speakers, and this is perhaps one of the secrets of their distinction. Holding to original identity is the fastest way towards uniqueness.

Korea15
Korea Foundation assigned a translator (I named her Hyam) to us, who helped us a lot in conducting extensive and enriching discussions with the Korean people. I met with the National Association member, Mrs Jung Choun-Sook, who is responsible for several important subjects; including the issue of equality between men and women, and most importantly, she is the Omani-Korean relations development committee chair. It caught my attention this great interest in strengthening parliamentary diplomacy and establishing a specialized committee to strengthen bridges of cooperation with other countries.
Jung spoke extensively about the Korean parliamentary system and elections, and also highlighted several challenges facing Korean society and the importance of finding legislative solutions to them. The parliamentarian did not neglect to talk about the importance of developing Omani-Korean relations, expressing her desire to visit the Sultanate of Oman at the earliest opportunity, and she praised a lot of what she knew about Oman and its good reputation as a friendly and peace-loving country.
Student missions
I presented to Mrs Jung the importance of increasing scholarships for Omani students to study at the advanced Korean universities in the fields of technology and other sciences and knowledge. I suggested establishing training programs for students from Omani universities to train, qualify and improve their skills in major Korean companies such as Samsung and Hyundai, during the summer period to gain experience, acquire great work cultur, and other skills in communication, task performance and job commitment.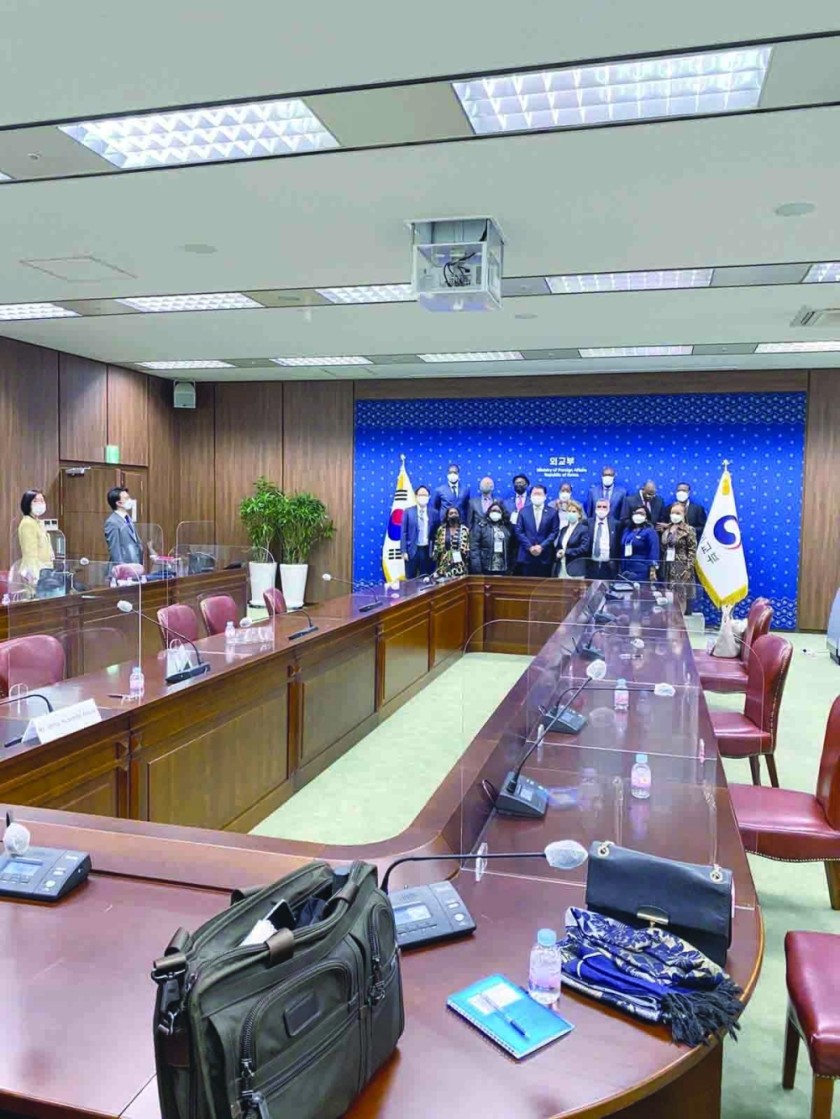 Korea14
On the third day, a meeting was arranged with the speaker of the National Association, Mr Jang Seong, and I was amazed at the beauty of the exterior and interior architectural design of the National Association building, with its multiple sections and a large hall that hosts parliamentary sessions.
The president of the National Association explained the importance of Parliament's work in providing great services in the field of research, studies on public opinion polls, and supporting members of Parliament with all the extensive studies they need to help them take the necessary decisions. He mentioned to me that about 15 researchers who are PhD holders work in the National Association, along with a large number of competent assistants.
This was followed by a meeting with his Excellency Chung Jong-kun, Korean Foreign Ministry Undersecretary, who spoke about the various political challenges facing the world, including wars, tensions and conflicts that represent a threat to international peace and security. He clearly and frankly referred to the wisdom of Oman politics and its clear approach to establishing peace around the world. He also spoke about the remarkable development in the Omani-Korean relations, especially as they are close to complete 50 years, as bilateral relations between the Sultanate of Oman and the Republic of Korea were established in 1974.
Korea2
Talking about politics and diplomacy did not prevent us from clearly pointing out the promising investment, economic, and cultural opportunities that both Oman and Korea have, which would raise the relations between the two countries to higher levels in various aspects.
The Republic of Korea is talented at employing its soft power, taking advantage of its physical and technological capabilities. I was introduced to the International Cooperation Organization "Koika", which is part of the Korean Foreign Ministry, and it represents the development arm that works to establish projects in many countries of the world to fight poverty, disease, ignorance, building strategic partnerships with many countries in various fields of development, and organizing humanitarian aid in various fields of development.
Korea3
It always astonishes me the interest of East Asian countries to strengthen ties of cooperation with the countries of the world, on purely humanitarian grounds, although they are aware of the extent of their soft power and its impact, they are very keen to enforce these soft powers, to achieve development goals that promote the human being, without interfering in countries internal affairs, or talking about political aspects related to local conditions of countries, and this is what should be paid attention to and maintained to achieve a future that is based on solid cooperation with various countries.
Multiple visits
The trip schedule - as I mentioned earlier - was full of meetings and visits to several sites and institutions, and our trip included a visit to the smart city "Anyang", which is located outside the capital Seoul. It is called a smart city because, within the last 15 years, it was able to make happen the ideals and theory of what makes a smart city where everything is interconnected and well-coordinated including the police.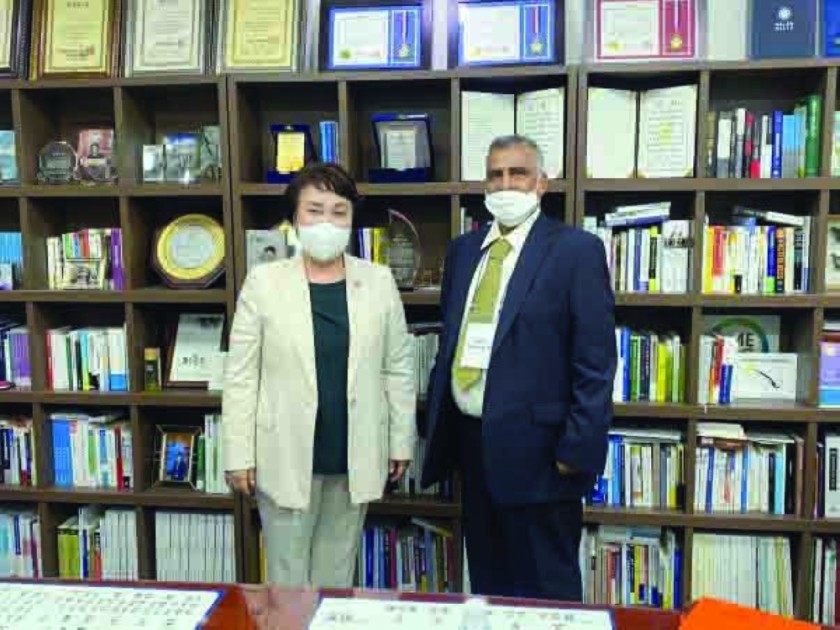 Korea1
From this visit, we learned that Seoul is equipped with about 6,500 surveillance cameras throughout the city that worked overtime monitoring traffic and controlling violators or monitoring and limiting suspicious actions, all of that aimed to keep the city safe, secure, and stable. This system has helped reduce crime and traffic accidents through a highly accurate monitoring system.
Hyundai factory
There is no doubt that a visit to Korea will not be complete without visiting its industrial fortresses, and on top of these forts comes the giant Hyundai factory, which despite intense competition from European and American technology, it has been able to excel globally in the field of the automobile industry. From the date of its establishment, 10 years later, it became an advanced auto-industry giant setting food in the global auto market and making sure that Hyundai cars are found almost in all the streets of the world.
Korea8
What astonished me is that this large company developed its manufacturing systems not solely dependent on manual labour but rather a reliance on robotics. A quick browse through of their assembly process reveals how the machines are in-charge of installing parts of the cars with minimal supervision from factory workers who are then supervised by a select group of engineers.
Hyundai has evolved to an exceptional level that it has shown us its first car powered by environmentally friendly green hydrogen energy. The car is planned to be revealed this year, and it is expected to conquer the world in the next few years.
Korean drama and music
The impact of Korean culture on drama and music can be found everywhere. Some of their best television series are not only viewed all over the world they matured to include different subtitles including Arabic. Even in Gulf countries, Korean series are easily found on different satellite channels. Ironically, Turkish series are adapted from many Korean dramas, and for this reason, we find Korean shows finding tv lovers everywhere.
Perhaps the most well-known example of Korean "soft power" dominating the consciousness of the world was the introduction of the song "Gangnam Style." It has achieved international fame, and to date, boasts more than 4 billion views on YouTube so far. Gangnam is one of the modern neighbourhoods in Seoul which is known for its restaurants and cafes. Korean cuisine is characterized by healthy food and it highly relies on vegetables. "Kimchi" or Korean pickles is an essential dish on every table in Korean homes.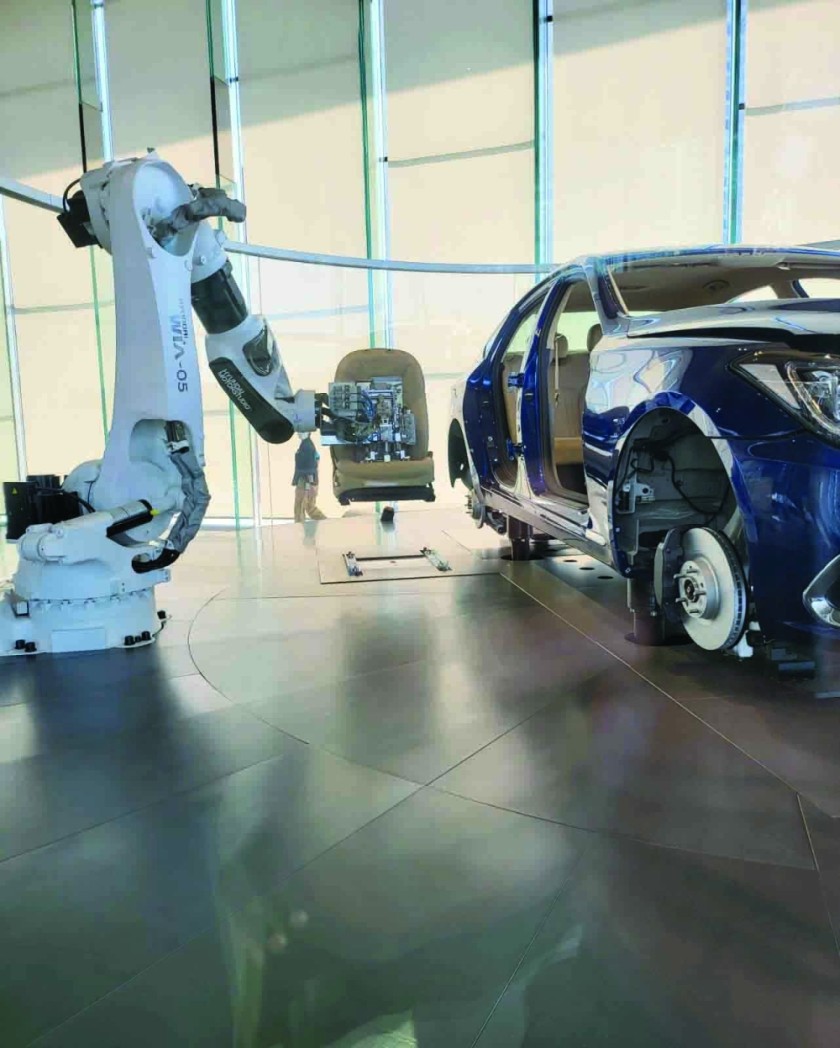 Korea 7
One of the most beautiful things I have noticed about the Korean people is that they sanctify work; indeed, one of the most important reasons for their advancement is their total commitment to work; where work is the most important priority in the life of a Korean person.
They applied the rule of "work is worship"; Where Koreans work long hours without tiring; because they turned work into a mean of both self-realization and dream of life realization. Koreans love discipline, respect, and appreciation. When they meet, they bow down to greet or thank someone, saying "kamsa hamnida," which means "Thank You."
Korea represents an advanced model of modern civilization, which is based on technological innovation and provides an elegant way of life.
Omani diplomacy in Korea
When I talk about the Omani diplomatic presence in Korea, I see our embassy in Seoul as an inspiration for activity and continuous work. The Oman Embassy in Korea is located in one of the finest Korean neighbourhoods, in a high-rise building. The embassy embraced the original and unique Omani architecture, and any visitor can notice the uniqueness of the building based on the foundations of the ancient Omani heritage, which derived its essence from Islamic architecture with a mixture of different cultures until it crystallized in an Omani crucible flourish with originality and uniqueness.
Korea10
I met there his Excellency Ambassador "Zakaria bin Hamad Al Saadi", the Ambassador of Sultanate of Oman to the Republic of Korea, and I found him a wonderful example of the Omani ambassador abroad.
The ambassador represents the spirit of youth full of enthusiasm towards work, with all energy and activity. From the first moment of the meeting until its end, the smile never left his face, and he maintains the wonderful Omani nature, with his calmness and strong charisma, full of modesty at the same time. His Excellency the Ambassador possesses extensive knowledge that always fascinates his listeners, in addition to his diligent follow-up of events and developments in various fields, and he is working to utilize all of this in evolving the Omani-Korean relations. Here I point to the serious discussions between the Republic of Korea and the Gulf Cooperation Council countries to conclude a free trade agreement. Which is a step that would support the improvement of the Gulf-Korean relations.
I had a walking tour with his Excellency, on which we enjoyed a night's walk in the safe streets of Seoul; where we walked through the town in the charming springtime.

Korea12
One of the most beautiful things that I learned during my visit to Korea is that the most famous, finest, and most delicious grape type is called "The Bright Muscat Grape," a fruit that represents for the Koreans a strategic crop. Where it is used in many aspects, and it is sold at a high price, the price of a kilogram may reach the equivalent of 10 Omani Rials, and this type of grape is characterized by its wonderful sugary taste with little acidity, and its large round shape without seeds.
The history of "Muscat grapes" goes back to the period of the Portuguese presence; The Portuguese took the seeds of Omani grapes from Jebel Akhdar to grow them in Europe, and it was a great success due to the nature of the weather there. And 30 years ago, the Japanese conducted successful experiments to develop this grape through genetic engineering, and when it arrived in Korea, it achieved great success. The truth is that when I saw this Omani grape flourishing in the far east, I wished that it would return to our beloved country, and we would grow it in large areas.
In conclusion, I don't remember being happier when visiting another country, than when visiting the Republic of Korea. It is a country that captivates you from the first sight, catches your eyes, steals your mind, and ignites your heart with joy, happiness, and enthusiasm. The Koreans have impressed me with their culture of love for work, fondness for excellence and distinction, and at the same time not neglecting to enjoy the joys of life. That is why I would say "Kamsa Hamnida"!