DUBAI: The Sultanate of Oman's Al Faisal al Zubair returns to international circuit racing action this weekend to take part in the Hankook 24H Dubai at the Dubai Autodrome.
Al Zubair is raring to go after a successful inaugural season in the International GT Open that saw him team up with Andy Soucek to record several impressive victories and second and third places in the drivers' championship.
On this occasion, Al Zubair replaces his Lechner Racing Porsche 911 GT3 for a Mercedes-AMG GT3, where he heads a four-man Al Manar Racing by HRT team entered under the Sultanate of Oman's national flag.
Al Zubair teams up with Dutchman Indy Dontje, Germany's professional driver Luca Stolz and Austrian amateur racer Martin Konrad in the second of two Mercedes' run by the Haupt Racing Team that took over the racing operations of Black Falcon. Twenty-eight cars are entered in the GT3 category.
Al Zubair said: "I am really excited for the 24 Hours of Dubai, especially having one year of GT Open experience. I think I am a lot better prepared now in the GT3 category than I was when I first participated in the Dubai 24. That was cut short after seven hours, so I am counting this as pretty much the first Dubai 24 for me."
"The team we are coming in with now are very successful and have won Dubai 24 numerous times and, with that, and along with my team-mates, I think we can feel quite confident in the package that we have. I am really excited to start driving again."
Dontje, 29, began his career racing in the ADAC Formal Masters and ATC Formel 3 Cup and is now a Mercedes works GT3 driver who earned class success in Dubai in 2019. He partnered Al Zubair on the Omani's debut in Dubai in 2020.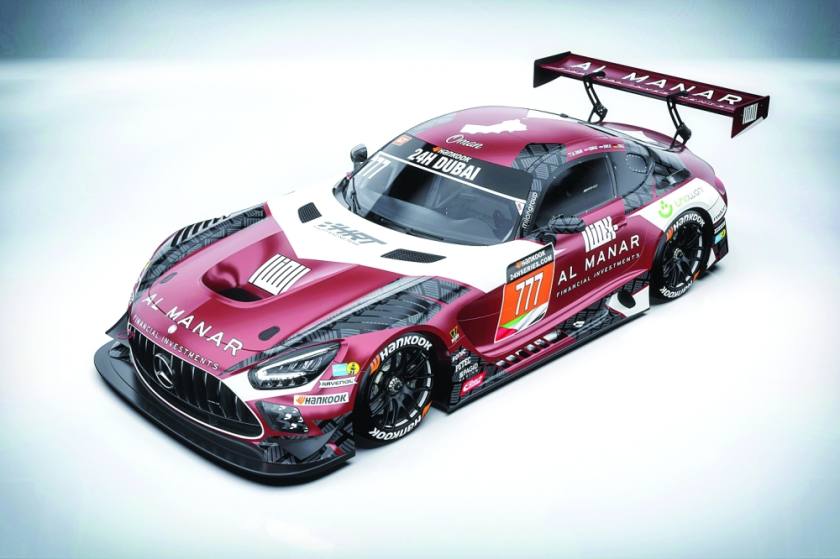 The HRT Team Mercedes for the Hankook Dubai 24H.
Al-Faisal Al-Zubair (21)
Stolz, 26, also competes in the ADAC GT Masters and GT World Challenge Europe and has won races in the Blancpain GT Series. He also came close to winning the Dubai race with the Black Falcon team in 2018.
Konrad, 43, is the oldest driver in the team and won the class A6-Am at the Dubai 24Hr race in 2019 with HTP Motorsport. Last season, he competed with a Mercedes in the Fanatec GT World Challenge Europe Endurance Cup and in the Intercontinental GT Challenge.
The Haupt Racing Team is running a sister car for team owner Hubert Haupt, Khaled al Qubaisi, Raffaele Marciello and Manuel Metzger. Marciello is the former Sauber Formula 1 test and reserve driver and is making his first appearance in Dubai.
The Dubai 24-Hour race was inaugurated in 2006 and ran as a 24-hour series race for the first time in 2015. Porsche is the most successful manufacturer with six victories, Black Falcon is the leading team with five wins and Jeroen Bleekemolen, Khaled al Qubaisi and Hubert Haupt are the most successful drivers with three successes apiece.
Unofficial private tests will be permitted on the circuit on Wednesday, but the first official practice sessions get underway at 12.15hrs on Thursday (January 13). These are followed immediately by two sets of three qualifying sessions for all Dubai 24Hr entrants.
The GT runners take to the track for 55 minutes from 15.25hrs. The stint is then followed by an official press conference for the leading qualifiers and then an important night practice session, starting at 18.00hrs and running for 90 minutes. The Hankook 24H Dubai then fires into life at 15.00hrs on Friday afternoon with the chequered flag falling for the leading crew at 15.00hrs on Saturday.