Muscat: The general assembly of Oman Olympic Committee (OOC) elected Khalid al Wahaibi and Al Mutassim al Zadjali as sports figures in the upcoming term (2020+1 – 2024).
The selection came during the regular general assembly meeting which took place on Monday at Crown Plaza hotel. The members of general assembly approved 28th February 2022 as the date of OCC board election for the new term (2020+1 – 2024). The meeting was chaired by the OOC president Sayyid Khalid bin Hamed al Busaidi in presence of the board directors and general assembly members.
The meeting commenced by a welcoming speech from the OOC chief as he thanked everyone's attendance in the meeting. " A dedicated thanks to HM Majesty Sultan Haitham bin Tariq for his care on sporting and youth fields and to the Ministry of Culture, Sports and Youth for their continuous support. I would like to congrats Oman's icon table tennis player Fatma al Nabhani and the shooter Hamed al Khatri for being selected as members of general assembly from athletes category and wishing them all the best," he said.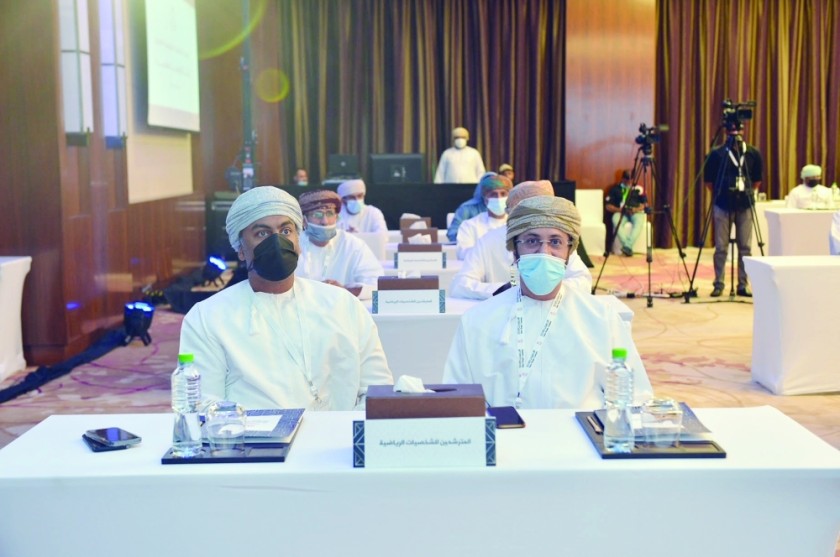 unnamed54

unnamed7974
unnamed12
The list of candidates for sports figures positions were between Khalid al Wahaibi, Al Mutassim al Zadjali, Obaid al Manwari and Salim al Masrori while Ahmed al Marhoon withdrew from the competition ahead of the election. The election results were unveiled post the election as Khalid al Wahaibi had 14 votes, Al Mutassim al Zadjali (15 votes), Obaid al Manwari (1 vote) and Salim al Masroori (2 votes).
The former chairman of Oman Volleyball Association, Khalid al Wahaibi, thanked the members for their confidence to represent in the assembly general of OOC. "We will work closely with OOC board directors on their strategies and develop them towards the success of Oman's sports at different levels," he ended.
Ex-chairman of Oman Tennis Association (OTA), Al Mutassim al Zadjali, highly appreciated the trust from the members.
"OOC had achieved different accomplishments during the past years. We will focus on continuity of different initiatives and plans that will ensure a top show for Oman's Olympic sports and athletes in different levels," he ended.