Muscat: Oman's Met Office on Friday said tropical storm Shaheen has intensified into a Category 1 tropical cyclone and is 500 km away from the Sultanate.
The cyclone continues to move towards the coastal areas of the Oman Sea with the wind speed around the centre is 64-82 knots.
"Some places in Batinah and Muscat have low lying areas and these areas have to be careful because we are expecting heavy rains. In the lagoons there is water after each high tide and so you can imagine the impact during the storm surge," said the weather forecaster at the Directorate General of Meteorology.
The cyclone is expected to make the landfall in the evening of October 3.
The direct impact of the storm is also expected to bring in strong winds and heavy rains ranging between 150 and 600 millimetres causing severe flash floods.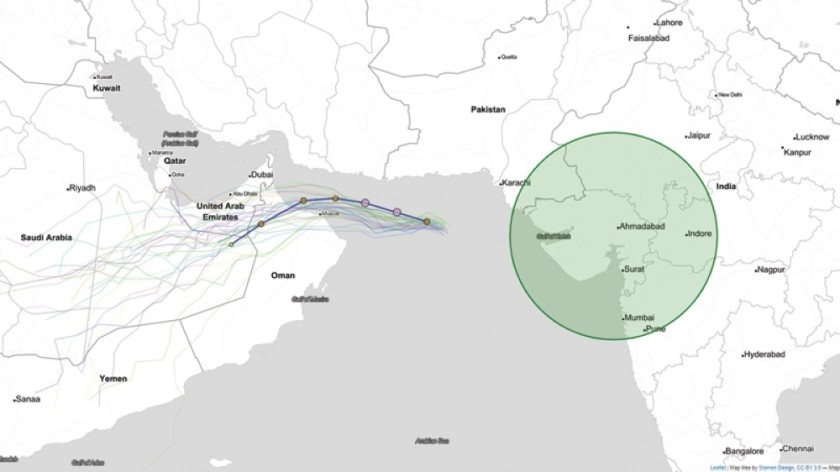 1767269
Rough seas are expected over the coastal areas between South Al Sharqiyah to Musandam governorates starting gradually from Saturday evening with maximum wave heights of 8 and 12 metres. According to weather experts, the storm surge is expected to result in sea water inundation over low level coastal areas. The sea is expected to be rough along the rest of Omani coasts with maximum wave height between 3.0 and 5 metres.
The Civil Aviation Authority has advised the public to take precautions by staying away from low lying areas and avoiding crossing wadis. The authority also has urged fishermen and sea goers not venture out into the sea during this period and have urged them to follow the latest weather bulletins from the National Multi Hazard Early Warning Centre.
1767258