As a multi-hyphenate shifting between his role as a creative producer, fashion consultant, designer and chef, Moe Khadra is accustomed to a well-curated life be it in food, clothes, the projects he affiliates himself with and even the space he inhabits.
Born in Beirut and spent his growing years in Oman, Moe is a combination of the best of both worlds crafting a narrative that is not only dizzying to follow because of its constant ebb and flow and numerous changes and detours but so mesmerizing that he is able to turn chaos into structure — and not just structure but the final product that speaks tonnes about who he is as a person and as a master craftsman.
Back in Oman for 10 months, his latest project is partnering with different food establishments in the country, working side by side with chefs and executives to come up with curated food and crafting its narrative and changing the aesthetics of food hubs that help elevate the dining experience in what would usually be a monotonous environment. In a way, it's infusing a burst of life into the food scene in the country that is looking for the best way forward after the debilitating effects of the pandemic.
Moe is currently busy collaborating with one of the country's premier Japanese cuisine destinations, Takara Restaurant at the Intercontinental Hotel Muscat. Calling it 'the Garden -Teien' and happening on September 29, it's an exciting foray into the mesmerizing world of Japanese cooking.
Oman Daily Observer reached out to Moe for an 8-question interview:
You were born in Beirut and grew up in Oman. Can you fill in the gap of what this dual culture was like for you and how did this influence the person that you've become?
Between Beirut and Muscat, I lived in Hong Kong, Madrid, Amsterdam, Milan, and Dubai. The past years have taught me to appreciate the innate nomad in me and people and watching their habits is by far my main source of inspiration. I don't necessarily look so much into the culture, but I think the diverse, intense experiences I have encountered in such a short time have influenced how I look at identity as inspiration, as a language, as a form of expression. I believe so much in self-expression and individuality.
IMG-0980
IMG-4635
IMG-4712
IMG_8642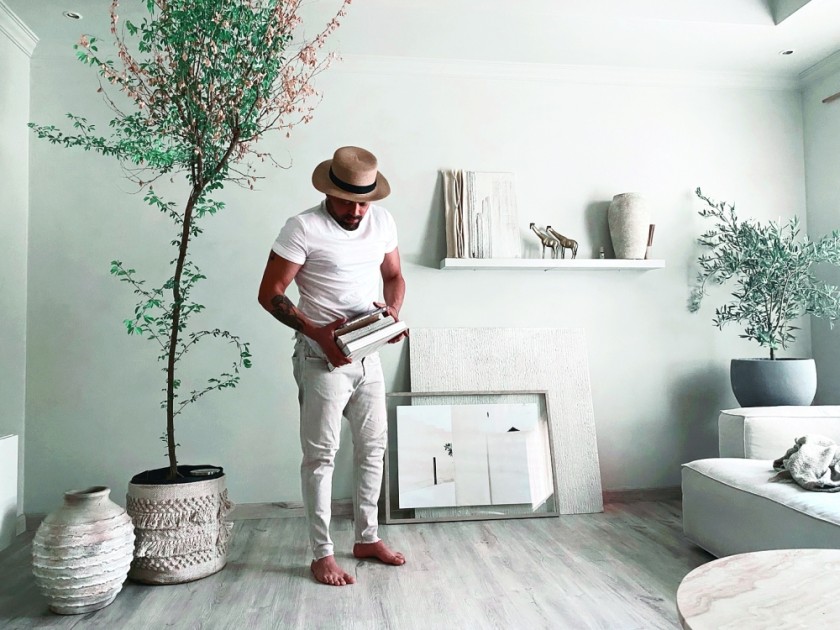 IMG-4757

IMG-4634
IMG-4758

IMG-4637
Can you give us a better idea of your career timeline: when did you move back to Oman and what excites you about being back?
My career has been a fusion of performing arts and theatre. I was an actor in my early teenage years up until my mid-20s. I then moved into being a media figure and worked in Beirut on a tv station as a presenter. In 2003, I decided to start my fashion and styling studies in Amsterdam and then lead to my main profession as a designer, stylist/fashion consultant and art director.
So I come from a very creative solid background that had nothing to do with cooking really. Then again, it's so much connected to gourmet somehow. It's all an art of something. I moved back to Muscat 10 months ago and I'm excited about the unexpected — excited about being able to share with my community bits and pieces of my experience and also living the new changes or the changes that are about to hopefully happen. Change is inspiring, too.
This latest venture where you curate food, can you tell us more about it?
I like to think of my food or kitchen takeovers/events as storytelling happenings just like my theatre or fashion concepts. I have been privately cooking at homes around Muscat and it was really an opportunity for me to not only introduce myself to the crowd but also to act as a listener, a watcher, and sometimes a performer. So much is always said over food, so much ice breaking happens and I think that's why I enjoy it.
How did you get started as a chef and who was your biggest influence?
My biography as a chef is still in its toddler phase. But I can recall loving the kitchen ever since I was three years old. I'm influenced by the streets, by the villagers, by their people. I like the essence of things when it comes to food, the basics that are so organic and spontaneous. I don't find inspiration in too polished, sophisticated atmospheres. I tend to be mesmerized by authenticity. I am a very Mediterranean man and I adore that cuisine. I find it warm, vibrant, diverse, healthy, you name it!
Can you give us a better idea of what "The Fig Gourmet" is and does it play a role in the experiences you're giving to the foodies when you craft your collaborations?
I will share something with you. I never think of ingredients first then create a dish, in fact, I look at the visual then create taste. It's just how my brain is trained to function coming from fashion. If your eye is going to love it, then you are going to want to taste it, right? The FIG is about that. It's visual, it's storytelling, it's experiential and it's personal. This is why I wanted to step into people's own kitchen spaces, restaurant's own venues and maybe this is related to how I have always adapted to new cities and new habits. The FIG as a fruit is so symbolic and visually fascinating, let alone its versatile taste.
This latest collaboration with Takara, what can guests expect and why is this exciting for you?
It's another exciting challenge after the Bank Beach Club. Only with Takara did I come to a cuisine that I am not so familiar with and that made this project even more appealing. Japan in my design work is constantly an inspiration and you can see that if you are familiar with my work in fashion and design, but I never ventured into its cuisine. I have had such a great experience so far with the Takara team, their professionalism and passion to put this event together have been so rewarding and we are both so excited to launch this GARDEN night. I think the guests are going to experience something with intensity, something that is slightly out of the box, dynamic and definitely, a sexy night!
For people who are new to Kitchen Takeovers, why do you think they should give it a try?
Why not? We are here for a short time. We might as well just have fun, it's all part of putting our own stories.
​​​​​​​Where will we see you next?
Honestly, I don't know. I follow my instincts and I dread routine there is so much more out there I want to live.