ARTISTS in the Sultanate celebrated the 75th Indian Independence Day by creating artworks depicting the art and culture of India. Organised by Rangrez Oman, the artist group of Indian Social Club (ISC) in association with the Embassy of India, Muscat, it was curated by Soni Budhia, a Muscat-based artist.
This was Rangrez's eighth virtual exhibition which was being held without any break for eight months. About 46 artists took part along with their 55 paintings in the online expo which opened on August 14.
Munu Mahawar, Indian Ambassador to the Sultanate, had sent a congratulatory video message to the artists in which he hailed the great curation of art which showcased Indian traditional dances, clothing and jewellery, folk art, architecture and lifestyle.
Soni, a senior Indian artist, curated the exhibition. A winner of several art competitions, she has participated in multiple art exhibitions and is a sculptor too. Oil and mixed media are her preferred tools.
While thanking Rangrez Oman for the opportunity Soni said, "I wanted the participants to put on canvas on how they perceive their motherland, be its natural beauty or all the arts and culture of India. It has been an exciting and enriching experience as a curator. My maiden experience was an eye-opener for me. I learned that apart from painting there are many aspects to learn and grow in the field of art. It helped me to hone my skills further. My heartfelt gratitude to the vibrant team that worked hard behind the scenes to support me and make this exhibition a grand success."
Bindu-Bharathanatyam

Veena Thoppil -Theyyam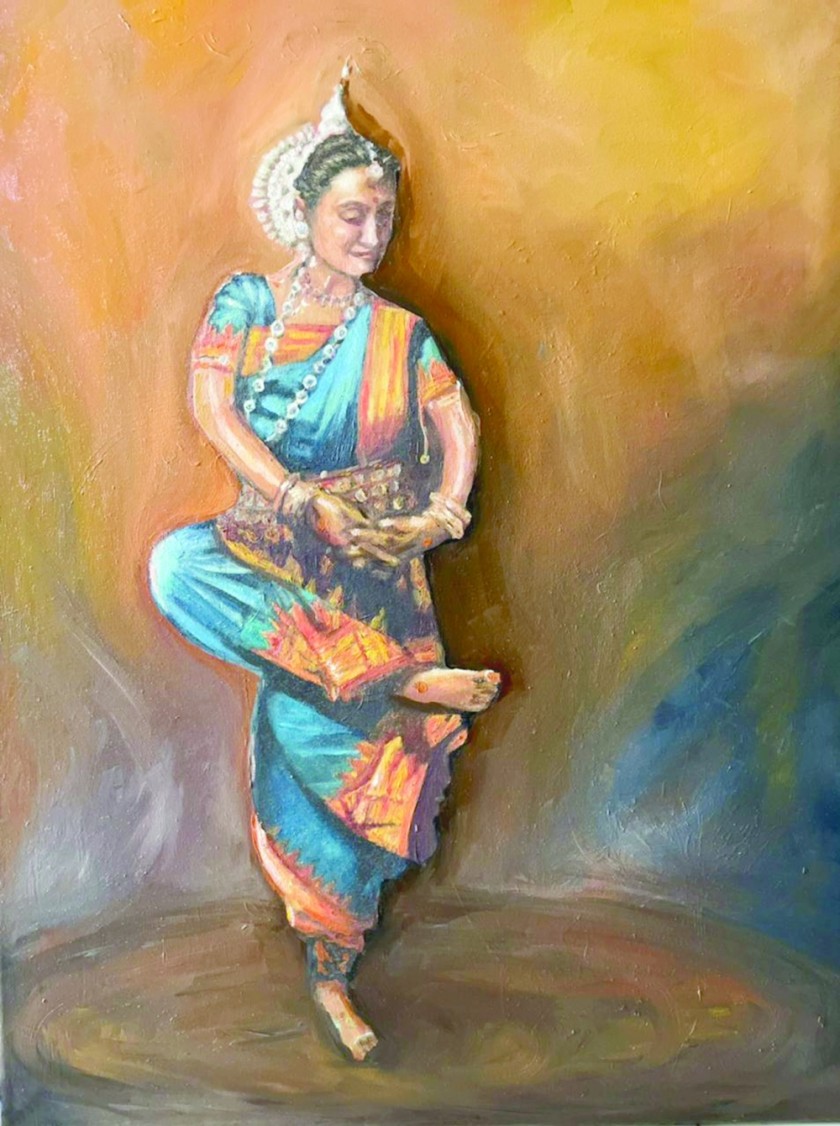 Dr Ratna - Dance of Freedom

Rajesh Gupta - Mera Desh on a rainy day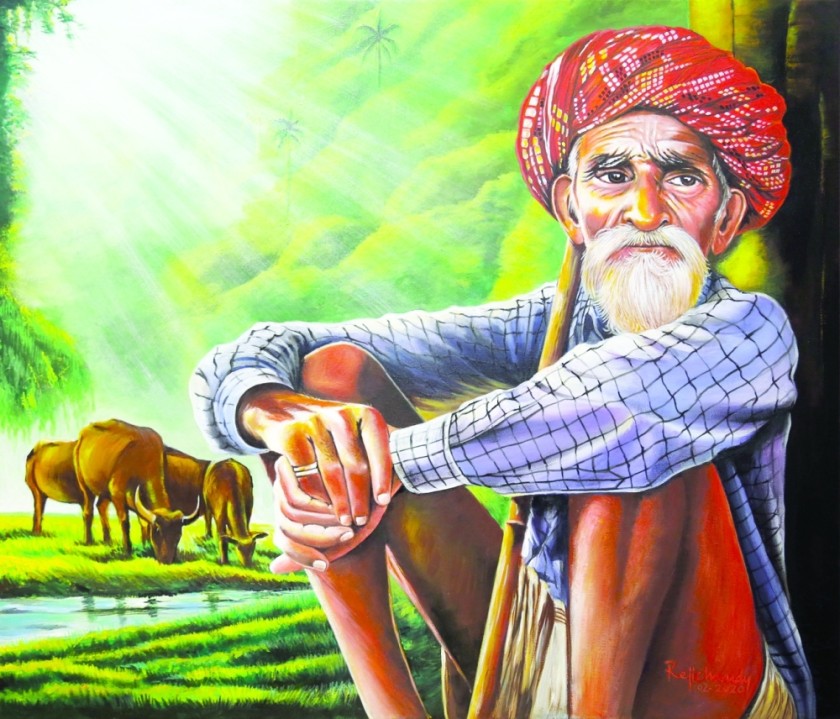 Reji Chandy - Rajasthani-cattleman
Savita Attri - Rabari

Sushmita Gupta, Convenor, Rangrez Oman

Soni Budhia - Eternal beauty
Soni Budhia, Curator for the exhibition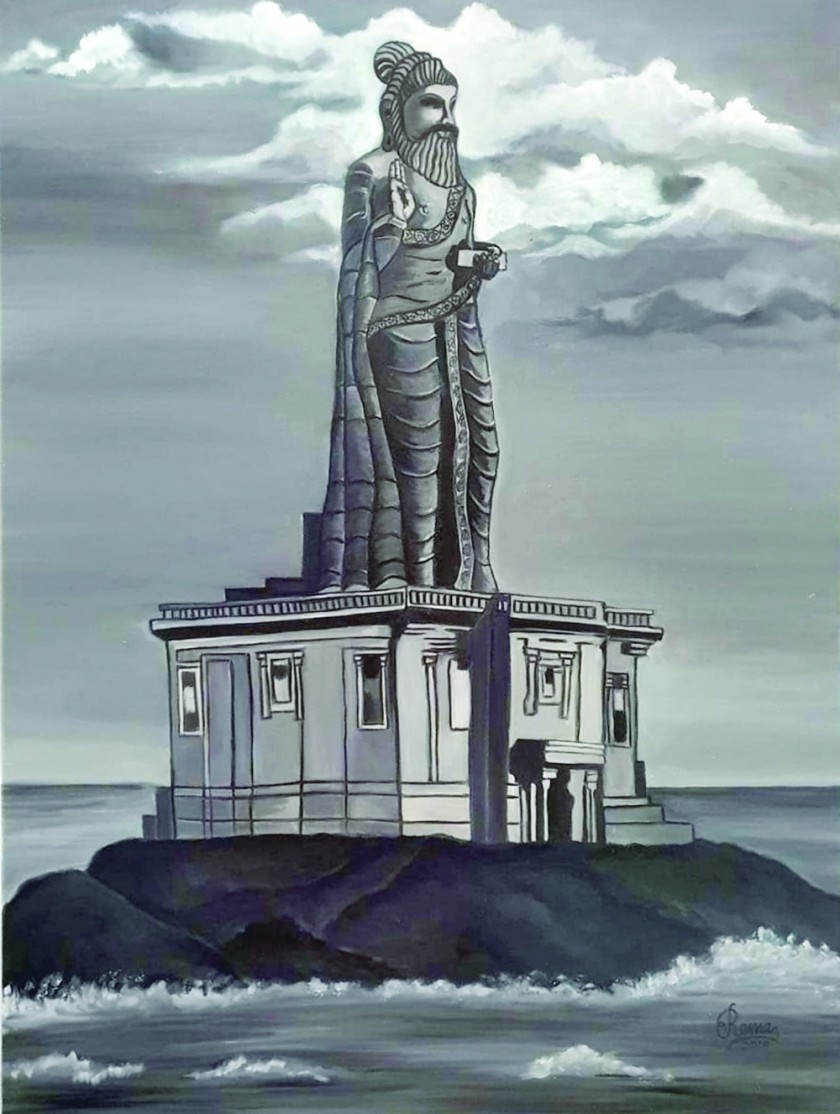 Rekhadevi Manivannan - Maadhaanupangi
Manjunath-Jallikattu
The exhibition was attended by Dr Satish Nambiar, Chairman of ISC, and the artists greatly appreciated his efforts to help the artist community during the pandemic times.
Dr Satish hailed the efforts of art aficionado Sushmita Gupta for doing a marvelous job.
He said, "Sushmita led Rangrez Oman from strength to strength. You and the members of the artist group of ISC did a marvelous job in spite of the restrictive norms in the current scenario due to Covid-19. Two years back when Suhail Khan and I handed over charge to you to form and lead a group we knew we would not have to worry anymore." True to our predictions Rangrez is one of the finest under the umbrella of Indian Social Club," he added.
Says Sushmita, Rangrez Oman Convenor, "As India celebrates its 75th Independence Day, the government named it 'Azadi Ka Amrit Mahotsav' while our exhibition was aptly titled 'Yeh Des Hai Mera,' as an offering to that celebration."
"I wish to thank Oman Observer for publishing the features along with the pictures of paintings and profile of artists through Rangrez Oman. It was a big boost and encouragement for all of us and we thank the media publication for the recognition."
On behalf of Rangrez and as a token of gratitude, Soni pledged the art she created for the exhibition to the Indian Embassy for looking after the Indians in the Sultanate.
ARTISTS' TAKES
Names of the artists and their works:
1. Reji Chandy -- Rajasthani Cattleman
2. Bindu Parayil -- Bharatanatyam
3. Dr Ratna Dharmendran -- Dance of Freedom
4. Manjunath J -- Jalli Kattu
5. Rajesh Gupta -- Des on a Rainy Day
6. Rekhadevi Manivannan -- Maadhaanupangi
7. Savita Attri -- Rabari
8. Soni Budhia -- Eternal Beauty
9. Sudha Siju -- Voyage to Serenity
10. Veena Thoppil -- Theyyam