The total number of people vaccinated as of July 7 reached 1,266,293, according to the continuous updates of the Ministry of Health (MoH).
Ibrahim al Maimani, a specialist in analysis and statistics, said that between July 3 and July 7, 169,455 people were vaccinated, at a rate of 42,364 people per day. "At this rate, 2.3 million people will be vaccinated until the end of this month, and the percentage will increase from 34 per cent to 62 per cent, as the Sultanate also targets 3.7 million people over 12 years old," he added.
This was also confirmed by Dr Saif al Abri, the Director-General of Disease Surveillance and Control.
"The expected daily number of the vaccinated will be 80,000 after Eid Al Adha with the arrival of a considerable number of vaccines," he said and stressed that more than 10,000 pregnant women have been vaccinated so far.
The Supreme Committee decided to activate the complete lockdown during the three days of Eid Al Adha, which is expected on the twentieth of this month. Therefore, the vaccination campaign will remain suspended during that time.
Dr Ahmed al Saeedi, Minister of Health, stated that this short suspension would not affect the course of the immunization campaign, and the appointments will be compensated with other dates after Eid.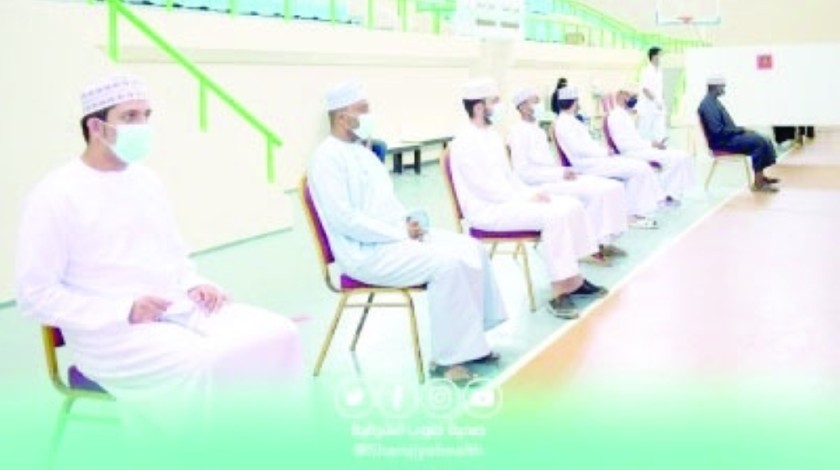 Vax 1
In the media conference last Thursday, the minister confirmed that the death rate decreased among the age group of 60 years and over who received the vaccine. The Sultanate has booked 7 million doses by the end of this year, including 4,2 million of Pfizer.
"Vaccination is one of the prevention tools, but still, precautionary measures will help you and your families," he said.
Al Saeedi stressed that the technical team is currently studying the vaccinations' advantages after the vaccination rate reached 50 per cent.
In recent decisions, the Supreme Committee allowed those who received at least one dose from inside the Sultanate or those who received two doses from abroad to enter Dhofar Governorate during the current Khareef season.
He asserted that legal action would be taken in future against workers in government institutions who refuse to take vaccine without a convincing medical reason, adding that private institutions may take the same approach.
"The Sultanate will not leave anyone in the target groups without vaccination. Vaccine, however, has been made available to expatriates in Dhofar whose companies have not booked doses for them," he indicated.
On Thursday, the Sultanate reported 1,453 new cases and 15 deaths over the past 24 hours. The total number of cases registered in the Sultanate reached 281,688, including 3,371 deaths. The total number of inpatients was up to 1,447, including 494 in intensive care units. The total number of recoveries was 250,564, while the recovery rate was 88.9 per cent.