A group of 75 participants came together to celebrate 75 years of India's independence. 'Rangrez', the artist group of Indian Social Club (ISC), went virtual due to the Corona pandemic as part of the celebrations.
In 2019, Dr Satish Nambiar, Chairman, ISC and Suhail Khan, Joint General Secretary and Entertainment Secretary, ISC, requested art aficionado Sushmita Gupta to put a group together of artists of Indian origin.
"It was a very pleasurable project for me as I prepared an introductory note, followed up with a call on social media and in the Indian Social Club wings," she recalls. Sushmita who led the artist community of Indian origin in Muscat says the team is forever delighted and grateful for the support they received from the Embassy of India in Muscat.
As the group was formed effortlessly, she named it 'Rangrez' which means dyer in the Persian language. "In Sufi tradition, it connotes someone who colours the soul in his or her own colours," she explained.
The end of May turned special for the artists who participated in an exhibition curated by Pragya Bhatnagar, one of the innovative artists of the group. She is not only good at presenting her art but also excels in curation too.
Pragya shared: "We at 'Rangrez' celebrate art every month by showcasing beautiful artworks painted by our immensely talented artists and plan to continue the celebrations. For 'Rangrez,' we chose to get inspired by the style of works from famous master artists born in the month of May.
The main idea of this exhibition is to push our skills further while enjoying the creative process, to study, explore and experiment with different style of work done by almost 30 international and Indian master artists from the 17th century to the present and to take inspiration from the masters to create their own diptych or quadriptych art pieces."
Pragya is excited to be part of the show and is indebted to 'Rangrez' for providing an opportunity to curate the show and all the participating artists towards making it a success.
Here are the details of the seven of the 39 curated paintings from some of the talented artists who exhibited including Pragya's own, WFH - The New Normal.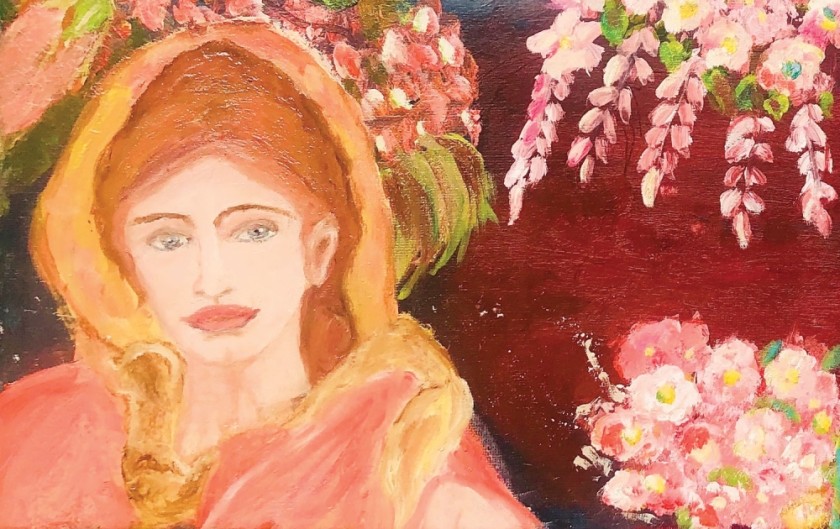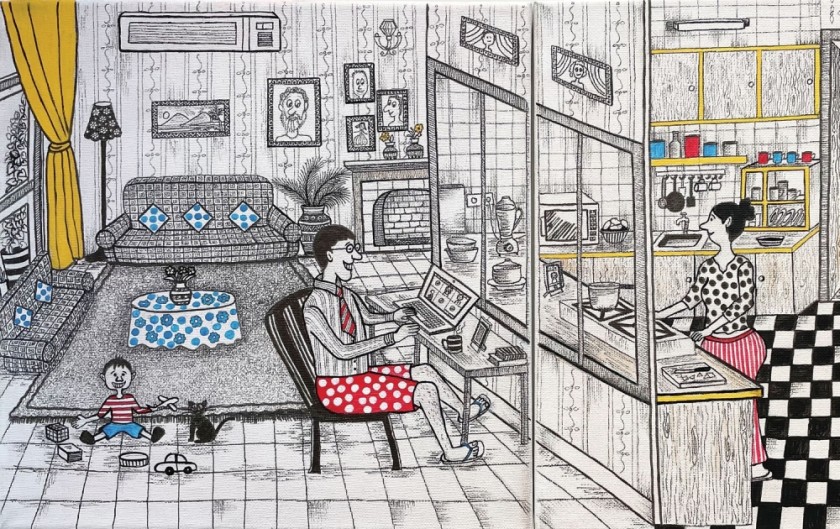 Aneesha B S
'Santorini': My works on canvases include landscapes, abstracts, portraits, impressionism and floral paintings. One of the foremost practitioners of Neo-Impressionism, Henri-Edmond Cross produced an array of work. The abstracted forms and dazzling colours that the artist displays in his paintings promptly paved the way for Fauvism. Cross initiated the second phase of Neo-Impressionism in the 1890s replacing the pointillism technique of small dots with larger, square-like brushstrokes that produce a greater intensity of colour on the canvas.
Anjana Loomba
'Family': Through the hard-edge abstract style, one sees a family in the set of windows that I pass by everyday. The black and white palette conveys a pure bond of love between the family members against the darkness of the world. The artist I chose inspired me by his simplistic style, use of solid colours, love for windows and minimalistic approach.
Ashwini Kelkar
'The Wardrobe': My art here is inspired by Franz Kline, a great American abstract expressionist. He was known for his monochromatic, black on white gestural paintings. I was intrigued and challenged by his method of expressing only with big, bold, aggressive black strokes on a white canvas. I have tried to imitate his method here, by using strokes of black as the main colour, and other colours give an impression of a wardrobe.
Nezzie Nazarane
'Conch': I chose artist Robert Ryman as he stood out among others. He mainly focused on materials he used and the paint application rather than portraying real objects. His later works consisted mainly of white-on-white paintings. Sometimes he used primary colours and then covered it mostly with strokes of white. Looking at Ryman's work, immediately brought the image of a conch to my mind and hence decided to paint it. I made the painting mostly in white with a little bit of blue, gold and grey. The canvas is textured to add interest.
Pragya Bhatnagar
'WFH: The New Normal': My work shows how life has changed everyone's perspective from 2020 onwards due to the pandemic environment. I was drawn towards the cartoonish pen and ink illustrations with few coloured elements, revolving around everyday life of common men in Mario Miranda's style of work which I have chosen as my inspiration.
Rema Sivakumar
'Freedom is your choice': My work is inspired by artist and poet Gabriel Rossetti. His work had purity and the female characters of emotions and feelings. Each painting had a story and a poetic touch. My painting depicts the use of our freedom as compared to a bird. We have the freedom of choice which I have shown in floral designs and female form.
Sarika Talwar
'Landscape': I am inspired by American artist Fredric Edwin Church who was a landscape painter and well-known for his large landscapes often depicting mountains, waterfalls and sunset.