The Royal Oman Police (ROP) has said charging money for an entry permit (visa) for a person to come to the Sultanate is a form of human trafficking and a punishable offense.
This is in response to some cases where visas were said to be sold to people against some money apart from the regular fee that allowed them to come and work for any sponsor by paying in instalments or lump sum to the seller. This is an illegal act punishable with fines and jail term, the Criminal Investigations Department dealing with human trafficking crimes warned.
Speaking to the media, Brigadier General Jamal al Quraishi, Director General of Criminal Investigations, said, "According to the Omani Law, any such behavior is liable for penalties and prison term may be up to fifteen years."
Although the human trafficking crimes in the Sultanate are still at low levels, it is the fear or reluctance of the victim that is making investigation and punishing the culprits difficult, according to Al Quraishi.
"Most victims of human trafficking do not initiate reports for fear of criminal gangs, and because of that, search and investigation teams specialised in combating human trafficking are finding it more difficult to book the culprits and to bring them to the law," adds the DG, who is also the member of the National Committee for Combating Human Trafficking.
"Human trafficking crimes in the Sultanate are still at low levels, and we have found out that most of the perpetrators and victims are of foreign nationalities, but there are some phenomena that would fall within the human trafficking cases."
More often than not, the victims are not aware of their rights when subjected to human trafficking or do not know the remedial measures they can use.
The National Committee for Combating Human Trafficking is organizing a nationwide awareness campaign to address the issues under the slogan 'Insan' (Human Being) with key stakeholders as members.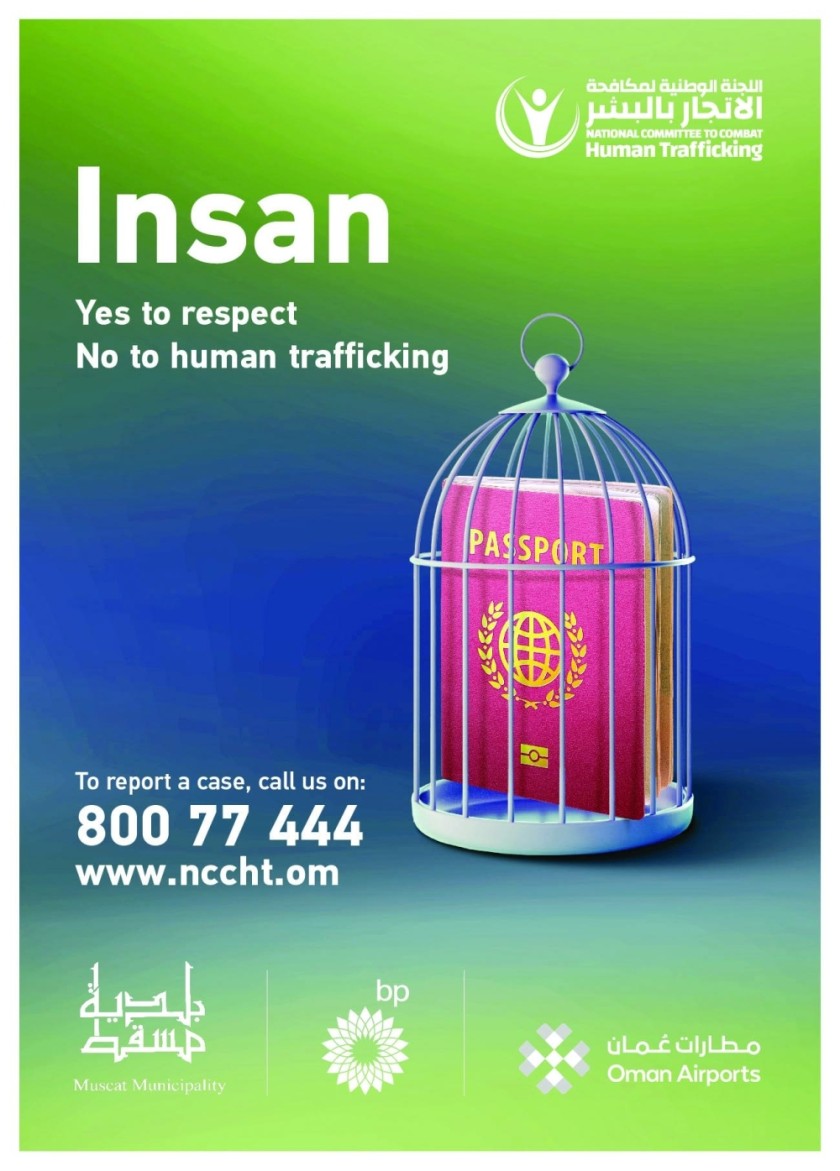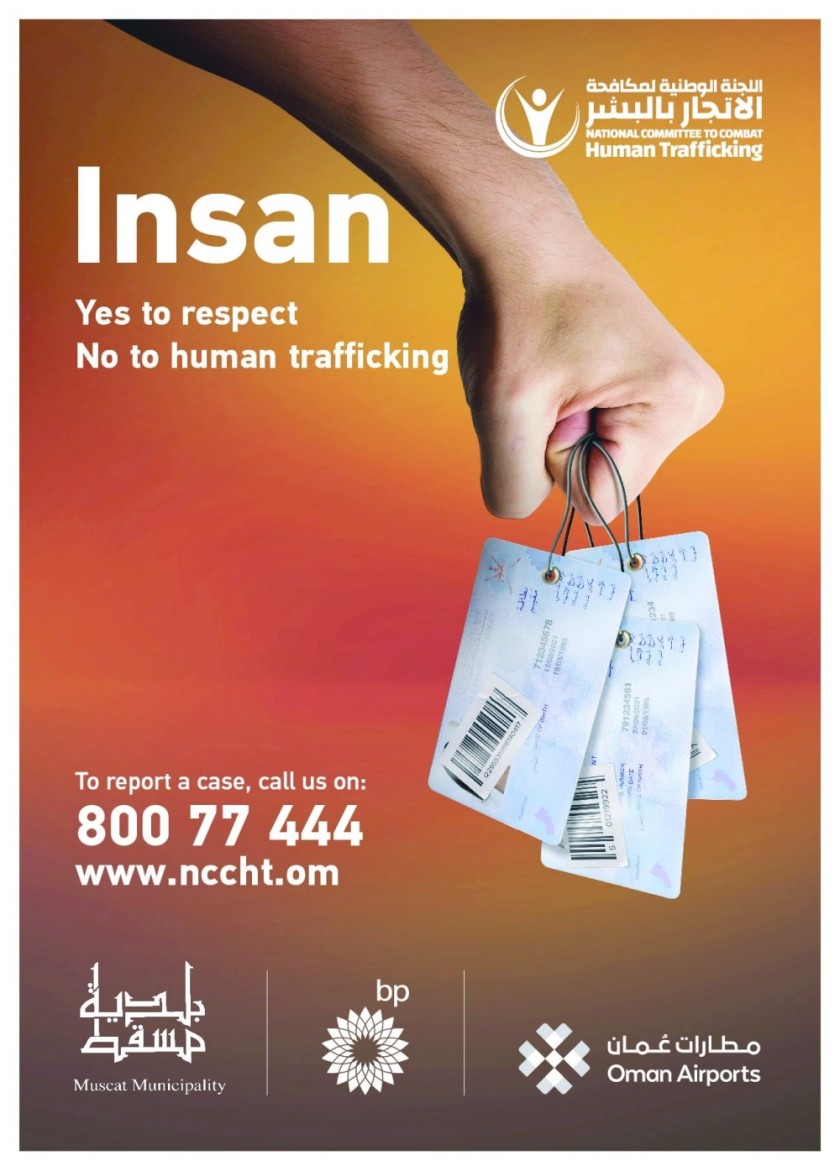 Human Trafficking Camp_R4_F_E-02 (1)
Members of the committee include all government and civil agencies related to combating human trafficking, including the ROP, and have set in place certain systems and strategies to deal with potential cases of human trafficking.
"The campaign was chosen to send a direct message about the human values of every individual regardless of race, color or religion, which must be respected."
The main goal of this 'Human' campaign is to enhance societal awareness of the concept of human trafficking and the importance of concerted efforts to combat this crime. Light will be shed on the correct concept of human trafficking by clarifying all aspects of this crime and its indicators and introducing citizens and residents to the methods of reporting any suspected cases and means of reporting prepared for this purpose.
Exploitation:
Exploitation is the most widely noticed human trafficking. There are elements of threat, deception or coercion, or functional powers to control the victim. To control their victims or even use the threat of revenge against the victims and their families also exploitation is used.
The General Investigations and Criminal Investigations Department during the past year revealed several human trafficking crimes, which consist of luring domestic workers to flee from their employers, so that they could be exploited in the practice of prostitution and acts contrary to morals and public morals, and a number of defendants involved in such crimes have been arrested.
The Anti-Human Trafficking Law, which was promulgated by Royal Decree No. (126/2008) in its second article, defined the perpetrator of the crime of human trafficking as every person who intentionally and for the purpose of exploitation uses a person, moves him, harbors him, or receives him through coercion, threat, ruse, or exploitation of the position or Influencing or exploiting the state of weakness or using some power over that person or by any other unlawful means, whether direct or indirect, in addition to using a juvenile, transporting it, harboring it, or receiving it even if the means stipulated in the previous clause were not used.