Oman's heritage is one of the nation's assets and a striking tourism attraction. Taking it to the next level is the youth of Oman who are investing in the heritage structures from traditional homes to community buildings and making it tourism homes and cafes. The pandemic might have slowed down the momentum but the minute the lockdown was lifted the young entrepreneurs were ready to receive the visitors. Leading the trend is the Ministry of Heritage and Tourism. The objective of the ministry is to preserve the cultural heritage of Oman's society at local, regional and international level.
The ministry has also been promoting a sense of pride and belonging among the citizens. The youth has caught on, but has also seen its higher potential in tourism business. Their keenness to give tourists an authentic experience has triggered a vast interest amongst domestic tourists. While the pandemic introduced the concept of staycation after the lockdowns along with organisations and workplaces coming back to normalcy with care, a weekend away, away from city lights and sounds, deadlines and pressure have become something domestic tourists are taking a liking to.
There is an element of nostalgia as well. "Ittakes me to my childhood memories'',said a citizenwho is settled inMuscatwith a busy career. Aresidenttouristreflected,"We are creating memories and thisisOman etched on our mindsforever." Ali al Yahyai was content working alongside his father in the family business based in agriculture, but he was also attracted to the tourism and hospitality industry. This resulted in Hotel Apartments Bahla Jewel in the year 2018. But by 2020 the pandemic had set in just when business had been established. Excited to see tourism back in business Ali looked at the attractions of the place,"Bahla has a lot of opportunities for heritage and cultural tourism.
There is so much for people to explore and we are here to introduce them to a world that existed before as can be seen at the Bahla Fort, which is in the Unesco Heritage List, but also our heritage that continues till today such as the pottery." On the ground floor he has started a boutique for men — a concept he introduced to encourage young SMEs. "Anyone who has products and collections and does not have a shop can market it right here'', said Ali. The concept has caught on and many youth have tied up with him. They specifically cater to bride grooms.
​​​​​​​

Bahla souq
Sulaiman al Yahyai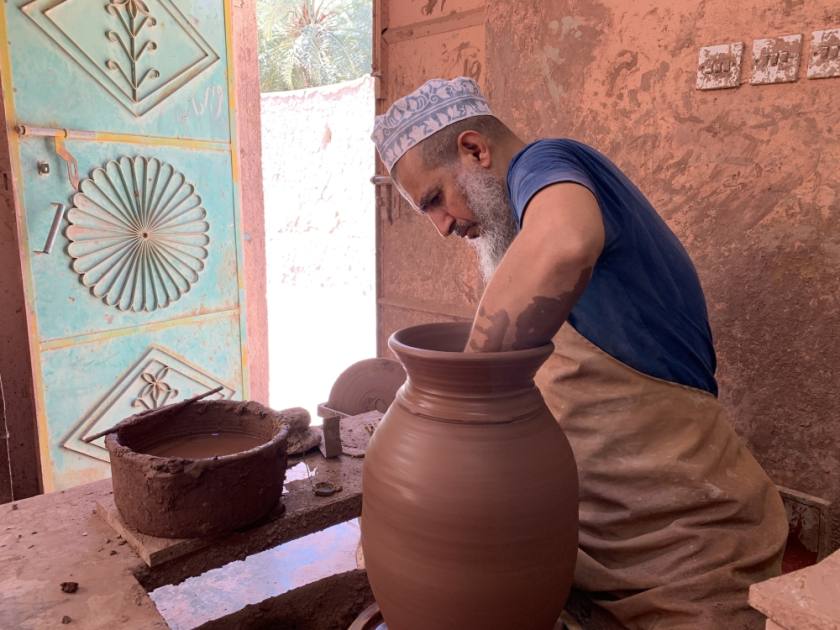 Said al Adawi

AbdulRahim al Saqri
Ali al Yahyai
Abdullah al Adawi
He said attractions of Bahla include the very nature of Bahla, "We also have cane sugar factories, pottery, agriculture, farms, perfect weather and lots of nature spots. AL Jabal Al Akhdhar is just a few kms away'', he explained. Just walking through the alleys of Bahla Souq also brings back the old world charm. The souq has also become meaningful once again. There has been renovation while the elderly are coming back; the youth are also making their presence as can be seen as in the case of café Kadm. The Kadm has designated cozy rooms with different themes such as abstract, Greek and Bahraini in addition to the normal outlet.
It is all within the souq. Alongside modern concepts, traditional shops continue to exist — for instance Suleiman al Yahyai has retired from his service in the government which had taken him to many parts of Oman. Throughout his stations he bought antiques and collected them, until when it came to retirement time he had his own antique shop in the souq.
He has a collection from coins to radios to utensils to footwear and not to forget indigo and wooden blocks for fabric printing. If one is willing to sit with him he is all ready to narrate his stories and his special collection of King Rosemary and Al Ellan — herbs. However he has frequent visitors and buyers. The Bahla Souq continues its traditional role and that is where men gather for conversations. Just a few kilometres away is Abdullah bin Hamdan al Adawi Trading Clay Pots Factory and Sale. How many pots he makes a day depends on the kilo of clay that is going to be utilised and most importantly the size of pots.
"Sometimes I make 200 pots a day if they are small in size. I am now working on a medium sized pot. In this case I can make about 30 to 35 pots a day'', said Said al Adawi who has been making pots for 45 years. He says the medium sized, closed neck pots are still in demand because people still prefer to store drinking water in them as they are stored cool, especially in summer. Orders come from Bahla, Nizwa, Fanja etc. As he finished working on the water pot, he demonstrated the making of a decorative pot. "My great, great grandfather and generations before have all been involved in pottery. As a youngster at the age of seven or eight I used to come and help my family in the workshop. I was a teacher by profession but in the evenings I used to enjoy joining my family and when I retired from government I was most happy to come and practice pottery fulltime. Now my children join me in the evenings'', Said noted.
AbdulRahim al Saqri is busy managing the Cafe, Bait al Sabah, at Barkat Al Mouz, which his cousin invested in and his brother has a passion for being a barista and is busy making coffee and serving the customers.
"It is about using these old houses. They are renovated and now visitors can come and experience how people used to live before. Alongside we have the hotel where people can stay and enjoy the unique experience. We ensure customer satisfaction," he explained.
On the ground floor of the house the visitors get to see the flowing falaj as it has done for years.​​​​​​​
The reddish clay that is strongest is from Al Hamra, the whitish and light coloured clay is from Bahla, which is used for decoration and storing cool water and the yellow clay is Italian. His pots are not just in the local markets they have now found markets in England, Australia and last year it was exported to Thailand and Sri Lanka. They are also in demand in the UAE and Kuwait. Meanwhile Abdullah al Adawi does not use a wheel for his pottery. He uses his bare hands and the pots are gigantic. "I take a few days to complete my pots because they are done part by part, step by step just like making a building. It can take up to three days because they are heavy'', explained Abdullah