Reptiles are a significant element of global biodiversity in Dhofar Governorate. The mountainous area offers many natural ecosystems comprising lagoons, wadis, water springs, grasslands, wetlands, and mangroves, which support a high diversity of reptiles and lizards.
The famous khareef season contributes to a variety and diversity of lizards within Dhofar Governorate. All these unique aspects in the governorate typically inspired a photographer duo to go on an adventure of taking pictures of various birds and lizards.
During summer, many lizards will be on estivation (a state of being temporarily inactive, similar to hibernation), which usually takes place during summer rather than the winter season. Therefore, it is an excellent opportunity to watch and observe many lizards and reptiles during the khareef season when they are active among the lush greenery.
Wildlife shutterbugs Suganthan Pathmanathan, a Sri Lankan Quantity Surveyor, and Amardeep Singh, an Indian Marketing Manager working in Salalah, spent a great deal of time capturing the lizards with their lens.
Two years back Suganthan who relocated to Salalah from Muscat, was impressed by a remarkable photo that Amardeep posted on his Instagram handle @amar_clicks.
It was a spiny-tailed Agama, one of the giant lizards living in Oman, which can change its colour to bright yellow when body temperature is high and dark grey when the body is cold. A perplexed Suganthan wanted to photograph the same lizard. He then contacted Amardeep, the author of the photograph.
This was the starting point of many of their dual adventures the two photographers had in Salalah.
Amardeep recollects how he captured the spiny-tailed Agama by sheer coincidence while driving back from Mirbat after photographing a Little Owl. Noticing the vibrant colours on a rock, made him stop his vehicle allowing him to take a few shots of the beauty.
Their outdoor professions enabled them with opportunities to excel as bird photographers. They could spend their free time and were delighted in photographing the colours, textures and behaviour of various lizards and reptiles in Salalah.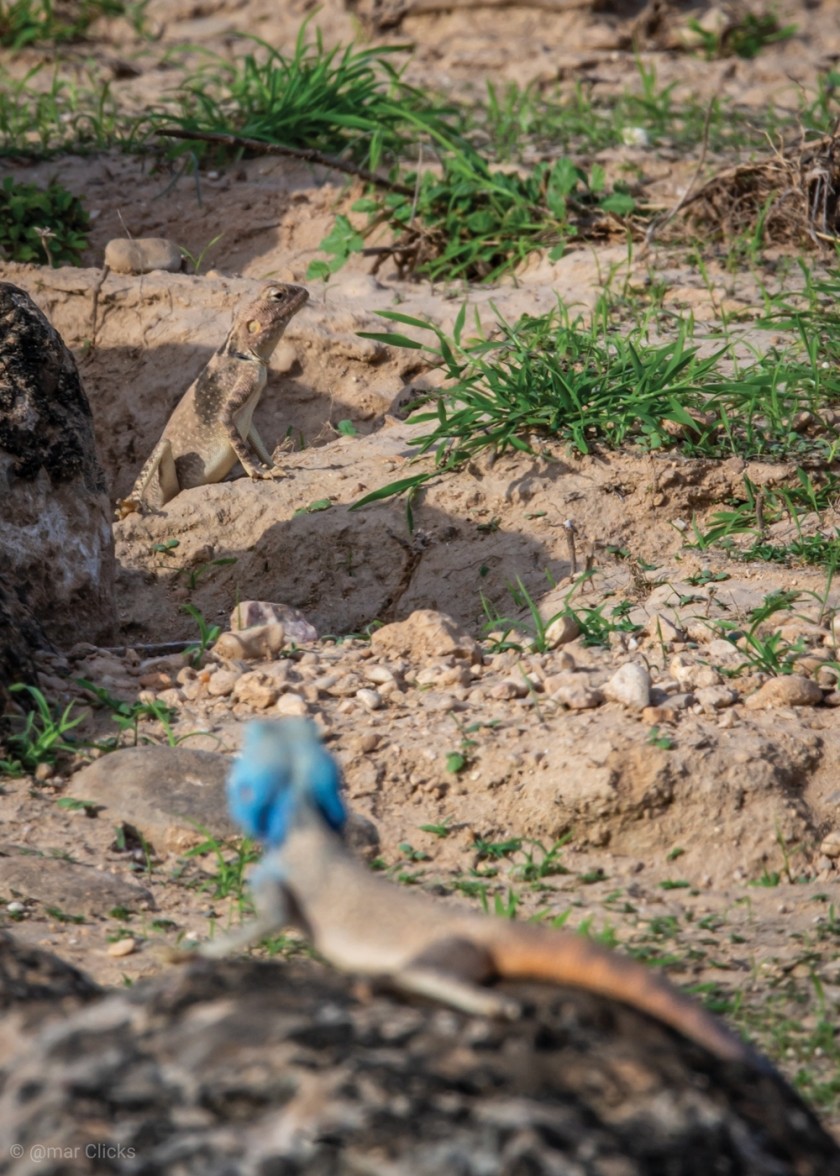 Desert-agama-(Male-&-Female)-2
Spiny-tailed-Agama
Trachylepis-lizard-1
Amardeep-Singh
Arabian-chameleon-1



The Arabian chameleon is a sub-species of the chameleon family, endemic to the southern Arabian Peninsula, and they exist in Dhofar.



Chameleons live in various habitats that range from wooded areas to wilderness conditions. Consequently, Salalah and adjacent areas are suitable places for chameleon's habitats. Chameleons have the ability to change their body colours to suit their habitats and their moods.
Chameleons are Suganthan and Amardeep's first choice of lizards to take photograph of. Both of them agree they managed to find this distinctive and highly specialised lizard in Wadi Nahiz, Salalah, at the same spot, especially during the khareef season, as the food supply is abundant.
Amardeep found Pseudotrapelus dhofarensis or Pallid Agama or Trapelus pallidus or desert agama in Ayn Razat area. By repeatedly visiting the place, he managed to spot both the male and female species of Agamas together. He said it is always better to maintain a safe distance from the lizards, as they do not get disturbed or else they change their location.
Another species captured by Amardeep is Pristurus carteri, commonly known as Carter's rock gecko, a species of gecko. Native to Oman, Pristurus carteri is often found basking on rocks or in urban areas. The males develop little fleshy spikes on their tails upon reaching maturity. When they feel threatened, they curl their tails in a scorpion-like fashion and even mimic the movements of a scorpion.
The texture and details on the body of Oriental Garden Lizards and common house lizards motivated Suganthan and Amardeep to photograph them week after week.
Narrating another moment of spotting the Sinai Agama Lizard, Amardeep mentioned that he witnessed it crossing the Ayn Hamran road and slowed the vehicle to let it cross. Later, he slowly parked his sedan and had to get down to the eye level to take a few shots. While taking shots, Agama's head started turning blue in colour. Getting down to the eye level, gives all together a different perspective to the image. These are some of the tips he learnt from his mentors at Salalah Photography Club.
Suganthan found his first Sinai Agama/Dhofar Agama in Mirbat while searching for Little Owls. On another day, Suganthan found a Trachylepis lizard closer to Ayn Khor during a family outing.
Both say "Dhofar Governorate is the most reliable and ideal area for reptile watchers due to its variety and diversity."
Amardeep-Singh
Accordingly, the duo has indulged in photographing the colourful reptile world by constantly visiting Wadi Nahiz, Ayn Razat, Ayn Sahnawt, Ayn Hamran, Ayn Khor, Ayn Aththum, Wadi Darbat, and Taqah.
Suganthan and Amardeep avoid getting too close to the subjects and subsequently take utmost care to prevent their habitats from being disturbed.